Raffles Grand Hotel D'Angkor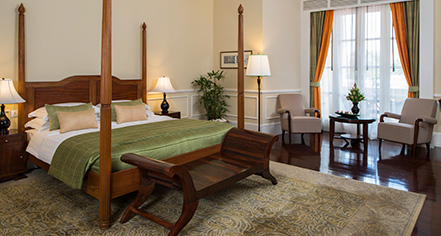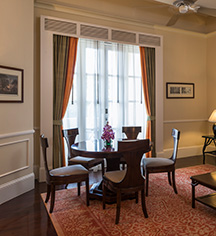 Accommodations
There are several types of luxury accommodations at Raffles Grand Hotel d'Angkor. The hotel has 119 delightful rooms and suites, stocked with modern amenities to ensure for guest comfort. Rooms are decorated with a delightful mixture of memorabilia and artifacts, making each room special. The rooms also feature beautiful design elements like high ceilings, wooden floors, and marble bathrooms. Balcony rooms include a personal balcony that overlooks either the pool area, or the hotel's own lush gardens. Historic charm and modern comfort are combined with spacious lodging, and luxury amenities. All guests can expect butler service, morning coffee wake-up service, hand-made silk bathrobes, 42 inch flat screen televisions, and free WiFi in their quarters. Dark wood floors, immaculate Khmer-inspired furnishings, and plush bedding complete the rooms for a world-class experience.
State Rooms
The State Rooms offer a blend of historic charm and modern comfort. With a choice of king or twin beds, all rooms are beautifully appointed with air-conditioning, overhead fans, and windows that open for fresh air. Some State Rooms have balconies overlooking either the gardens or the swimming pool, while others have a daybed for relaxation. All State Rooms feature a separate bathtub and shower.
Landmark Rooms
First designed in 1932, all Landmark Rooms are decorated with memorabilia and artifacts commemorating Khmer culture. The Angkorian ambience is honored by high ceilings, wooden floors, and hand-crafted four-poster beds. Rooms feature a balcony that gaze out onto either the pool, the Royal Gardens, or the hotel's lush, landscaped gardens.
Personality Suites
The four specially-crafted Personality Suites take their inspiration from people who have been closely associated with Angkor. Located in the heritage building, each room is fitted with a claw–foot bathtub and a relaxing day bed on the spacious balcony.
Henri Mouhot Suite- In honor of the nineteenth-century French explorer Henri Mouhot, who introduced Angkor to Western audiences through his writings.
Louis Delaporte Suite - In honor of Louis Delaporte, a member of the French Mekong Exploration Commission. Delaporte would commit his life to preserving Khmer artwork.
Henri Marchal Suite - In honor of Henri Marchal, who was the Conservator of the Monuments of Angkor for many years, and helped restore several temples at the site.

John Thomson Suite - In honor of John Thomson, the scholar who was the first to photograph Angkor Wat in 1866.
Colonial Suites
True to the hotel's original character, these junior suites are decorated with wood paneling and custom-made Cambodian silks. Each one features a large sitting area, and a walk-in wardrobe. A spacious balcony provides a wonderful view of the French gardens below.
Cabana Suites
The Cabana Suites offer the most romantic setting at the Grand Hotel d'Angkor. The suites offer a large private terrace, a day bed, and a dining table that is perfect for a romantic dinner. Each room combine elements of Khmer culture and French-Colonial style, such as Cambodian linens, silks, and leather furnishings. The Cabana Suites are ideal for either business or pleasure, as the rooms offer twin baths and a separate living space.
Landmark Suites
The Grand Hotel d'Angkor offers two Landmark Suites: one in the heritage building, and another in the new extended wing. Both are completely furnished with a luxurious blend of Cambodian and Art Deco themes. The suites feature separate living spaces, as well as a private terrace that looks out onto the French gardens.
Two-Bedroom Villas
The Two-Bedroom Villas are for people seeking the most intimate stay in Siem Reap. Separate from the hotel, the Two-Bedroom Villas have been tastefully decorated with modern comforts so that they feel like a home away from home.
Guestroom and Suite Amenities
42" flat screen LCD televisions with cable channels
Fresh tropical fruits, replenished daily
Fully-equipped mini-bar
Hand-made silk bathrobes
Individually controlled air-conditioning
In-room dining (24 hours)
Landmark Rooms with shower over heritage bathtub
Large working desk
Morning coffee wake up service
Personal safe
Private balcony (some State Rooms and all Landmark Rooms)
Raffles butler service
Raffles signature bathroom amenities
State Rooms with separate bathtub and shower room
Tea and coffee making facilities
Two-line telephone
WiFi (complimentary)