Raffles Grand Hotel D'Angkor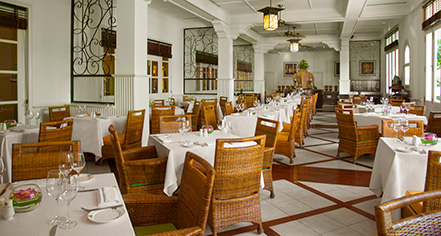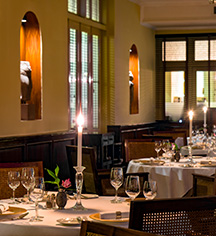 Dining
Raffles Grand Hotel d'Angkor provides six on-site restaurants for guests to dine in. There are four full-service restaurants and two bars. Regardless of the time of day, guests of the Grand Hotel d'Angkor have a wide variety of dining options.
Café d'Angkor
Home to the Grand Hotel d'Angkor's signature champagne breakfast, the restaurant is open for lunch and dinner. The Café d'Angkor offers delicious menus featuring Asian and continental dishes. Enjoy alfresco dining on the patio overlooking the pool, or relax inside within the sun-lit, air-conditioned café. Picnic baskets and freshly baked goods are available for guests to take.
Elephant Bar
The Elephant Bar is Siem Reap's most celebrated lounge. A visit to Raffles Grand Hotel d'Angkor would be incomplete without trying the famous signature cocktail, the Airavata. The Airavata includes an enchanting blend of rum, coconut passion, lime juice, crème de banana, pineapple juice, and coconut juice.
Poolside Terrace
Surrounded by fragrant Frangipani trees, the Poolside Terrace is the perfect spot for light meals or cocktail hour. The menu also features a selection of Raffles Spa dishes for the more health-conscious guest. Alternatively, a butler can arrange for a romantic, candlelit dinner by the pool.
Restaurant Le Grand
Chefs at the Royal Palace have passed down ancient royal cuisine to the Grand Hotel d'Angkor. At the hotel's Restaurant Le Grand, the finest ingredients are carefully blended to create a distinctly exhilarating culinary experience. The extensive wine cellar showcases one of the finest wine selections in Asia, with 400 wines from around the world available upon request.
The Apsara Terrace
The Apsara Terrace is a must for guests visiting the Grand Hotel d'Angkor. Enjoy a majestic Cambodian dance performance in the serene gardens of the Terrace, or observe Khmer martial arts while dining on authentic pan-Asian barbeque.
The Conservatory
The Conservatory offers a wonderful atmosphere overlooking the pool and gardens, and is best known for its traditional afternoon tea. Relish an evening cocktail or aperitif in the presence of a talented pianist.