Raffles Grand Hotel D'Angkor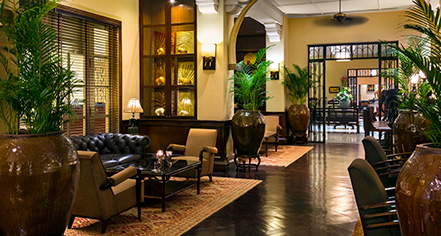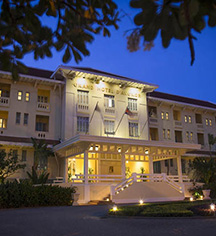 History
Raffles Grand Hotel d'Angkor first opened its doors in 1932, based on a plan to build five hotels throughout French Indochina. Hoteliers built the hotel to accommodate tourists visiting the Angkor Wat, the world's largest religious temple complex. The famous French architect Ernest Hébrard proposed the idea of a luxury hotel in Siem Reap to replace the bungalows that were no longer suitable for the growing number of tourists to the area.
Raffles Grand Hotel d'Angkor gets its name from the capital city of the ancient Khmer Empire, which ruled much of Southeast Asia from 802 to 1431. The strong historical influence of the Khmer Empire inspired continued fascination with the culture into the 1900s, with Hébrard incorporating aspects of Khmer architecture, art, and furniture throughout the Grand Hotel d'Angkor. Hébrard also included elements of French-Colonial architectural into the design of the hotel, with strong Art-Deco influences woven into the fabric of the building, as well. When the hotel debuted in the 1930s, many considered it advanced for its time. The first iteration of the Grand Hotel d'Angkor featured rooms complete with indoor plumbing and private bathrooms. Hébrard installed a wrought iron elevator into the hotel, too, which has remained popular among guests ever since.
Upon opening, the Grand Hotel had over 60 rooms with private bathrooms, something previously not seen in the region. Guests to the building could expect torch-lit Khmer dances, traditional live music, and excursions into the jungle ridden on the back of an elephant. Hoteliers also provided its guests a small golf course for their entertainment. Due to such luxuries, the Grand Hotel d'Angkor hosted many famous people over the years, including actor Charlie Chaplin, French President Charles de Gaulle, and First Lady Jaqueline Kennedy Onassis, as well as Princess Margaret and her husband Lord Snowdon.
Raffles International Limited acquired the Grand Hotel d'Angkor in the 1990s. In 1996, Raffles closed the hotel to begin a series of ambitious renovations that added on a whole new wing to the building. When renovations concluded a year later, Raffles reopened the Grand Hotel d'Angkor. By that point, the hotel had grown to feature 119 rooms. Raffles also provided meticulously manicured gardens onto the grounds. The new landscape included a Lotus Garden, the River Gardens, and the Temple Gardens. In 1998, Raffles went a step further, renovating the famous bridge that spans the Siem Reap River.
Raffles Grand Hotel d'Angkor, a member of Historic Hotels Worldwide since 2018, dates back to 1932.