Raffles Hotel Le Royal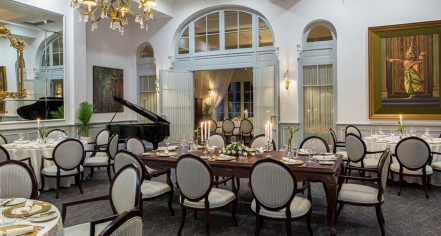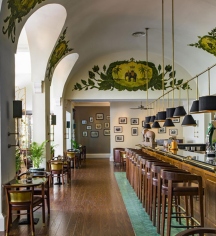 Dining
One restaurant, two bars, and a café are among the dining options available for those staying at the Raffles Hotel Le Royal. From the elegant Restaurant Le Royal to the casual Café Monivong, guests can find a dining option that entertains, relaxes, and satisfies.
Restaurant Le Royal
Restaurant Le Royal features native cuisine given to the hotel by a special decree issued by the Royal Palace. The finest ingredients are carefully blended to create a distinct, exhilarating, and elegant gastronomic experience. It is an exceptional, magical, memorable place; timeless yet completely of its time.
Café Monivong
Café Monivong provides the perfect backdrop for a culinary adventure, providing guests with a delicious menu featuring Khmer classics and international fare. The café offers adventurous dining options all week, including an a la carte menu between Sunday and Thursday, "Italian Night" on Fridays, and a seafood extravaganza served on Saturdays. With just 24-hours' notice, the team happy to prepare a personalized buffet for groups of 12 or more.
Elephant Bar
A visit to Phnom Penh is not complete without a visit to the famous Elephant Bar. The bar has a full range of wines, beers, and spirits, including one of Asia's largest selections of gin. The signature cocktail is the Femme Fatale, first crafted for Jacqueline Kennedy during her visit to Cambodia in 1967.
Poolside Terrace
Located right beside the sanctuary of the swimming pool, the poolside terrace is the ideal place to relax in the shade of the fragrant frangipani trees. Cool off with chilled wines, beers, and tropical cocktails, which are all served with light meals. The attentive staff will serve you right at your personal sun lounge.