Reichshof Hamburg, Curio Collection by Hilton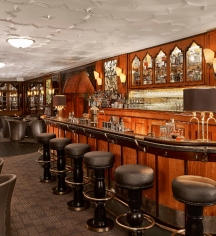 Dining
Guests looking to dine at Reichshof Hamburg, Curio Collection by Hilton, will be pleased to find three sophisticated establishments at the hotel. Each offers a unique, diverse experience sure to please any palate. From innovative local favorites to a simply cup of coffee, the Reichshof Hamburg, Curio Collection by Hilton, is happy to provide a variety of dining options.
Stadt Restaurant
Opened in 1910, the Stadt Restaurant offers local gastronomy with antique ambiance. As the centerpiece of the hotel, the Stadt Restaurant features the elegant aesthetic of a luxury ocean liner, complete with beautiful wood paneling and a revolving gallery. The restaurant specializes typical German cuisine crafted by Head Chef Mario Regensburg, along with an impressive international culinary selection to suit even the most delicate of tastes.
Bar 1910
Bar 1910 is a chic, cozy space, serving a vast, high-quality menu of many different spirits and cocktails. This historic bar, with a 1920s Art Deco flair, is the perfect place to relax at the end of the day. It is one of the remaining parts of the original Reichshof Hamburg, and a favorite among locals, actors, musicians, and of course, guests.
Emil's Café, Bistro and Bar
Emil's Café, Bistro and Bar, is a new venue at the hotel, named after the founder of the Reichshof Hamburg. This vibrant restaurant is a combination of a bistro and a café, offering up energizing breakfasts, delicious afternoon tea, and homemade cakes. All dishes are made to order with great care. There is also a 24-hour pavilion, Pantry Market, available to guests seeking a quick bite or refreshing beverage.