Rosewood London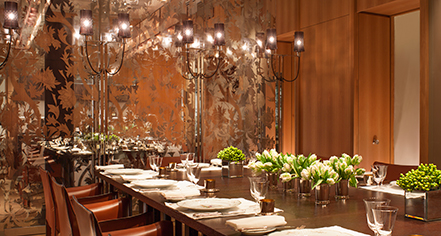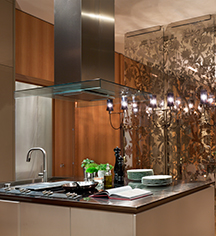 Venues & Services
The Chairman's Boardrooms
Overlooking High Holborn, The Chairman's Boardrooms offer a stately, eye-catching location for lunch, dinner, or board meetings for up to 14 people. Named in honor of three past Chairmen of Pearl Assurance–Sir George, Sir James, and Sir Geoffrey–the heritage boardrooms showcase original architectural features of the former Pearl Assurance building, including the carefully preserved French walnut and Cuban mahogany-panelled fireplaces.
Imbued with the elegance and refinements of the early 20th century, all three boardrooms have distinct characters and identities. Each room has its own bespoke paper stock, logo, letterhead, and stationery. The boardrooms enjoy plentiful natural light and can also serve as characterful private dining rooms.
Area
sq m
sq ft
Sir George
49
527
14
14
Sir James
38
409
12
12
Sir Geoffrey
38
409
12
12
Private Dining Rooms
Situated on the ground floor with large windows that catch the sunlight, The Dining Room and The Living Room are private adjoining spaces that can accommodate up to 20 guests for a meeting, working breakfast, luncheon, private dinner, or even a small banquet. As the only private dining space with a show kitchen in a five-star London hotel, The Dining Room offers opportunities for unique culinary experiences, be it a food and wine pairing event, an in-depth cooking lesson, or a theatrical private dinner.
Area
sq m
sq ft
Living Room
80
861
20
30
25
20
20
Dining Room
60
645
12
25
18
12
12
The Ballroom
Rosewood London's Grand Ballroom is a luxurious and flexible venue suitable for any occasion. The expansive, dignified hall can accommodate up to 555 guests and can be divided into three smaller spaces, each with an independent entrance. Two dramatic staircases lead from the Rosewood London lobby to the balcony, which overlooks the Grand Ballroom's spectacular foyer and leads directly to the five Salons, which can serve as supplementary rooms for ballroom conferences or festive events.
Area
sq m
sq ft
The Grand Ballroom
397
4,273
340
555
430
240
90
Ballroom One
145
1,561
100
135
120
80
40
Ballroom Two
165
1,776
110
155
140
90
40
Ballroom Three
147
1,582
100
135
120
80
40
Foyer
176
1,894
220
Ballroom One and Two
310
3,337
200
290
260
160
50
Ballroom Two and Three
312
3,358
200
290
260
160
50
The Salons
A series of five elegantly appointed rooms, the salons can be divided into two, three, four, or five separate chambers. Their close proximity to the ballroom and their state-of-the-art amenities make them flexible break-out spaces for a larger event. With easy access from the lobby, they can equally function as independent rooms.
Area
sq m
sq ft
Salon One
40
431
12
25
18
12
14
Salon Two
31.5
339
12
20
18
12
12
Salon Three
34
366
12
20
18
12
12
Salon Four
38
409
12
20
24
12
12
Salon Five
37.5
404
12
20
24
12
12
Salon One and Two
72
775
40
45
40
24
26
Salon Three, Four, and Five
111
1,195
60
70
85
55
42
Manor Club
165
1,776
30
70
30
14
24
Manor Club Boardroom
14.5
156
6