Rosewood London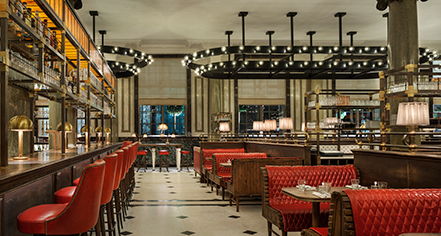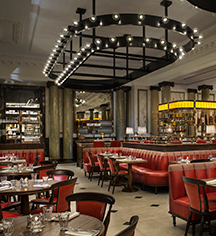 Holborn Dining Room
A grand brasserie set in midtown London, Holborn Dining Room serves up seasonal, locally sourced British cuisine with a twist in a vibrantly bustling dining salon. Combining reclaimed oak with antique mirrors, red leather banquettes with tweed detailing, and two patina copper-topped bars, this lively experience is ideal for enjoying a convivial meal with friends, a spontaneous pint of local lager and a burger, or a selection of crustacea and charcuterie paired with wine – all served by the friendly restaurant team.
The menu, comprised of traditional British dishes made from the finest locally sourced ingredients, is divided into eight sections: Bar Snacks, Cold Counter, Hot Counter, Grill, English Kitchen, Sides, Sandwiches, and Afters.
Hours
Monday to Friday: 7:00 AM to 11:30 PM
Saturday: 8:00 AM to 11:30 PM
Sunday: 8:00 AM to 10:30 PM
The Courtyard Terrace
The al fresco extension of Holborn Dining Room, The Courtyard Terrace is set in the serene Edwardian inner courtyard of Rosewood London. Guests can sit back and relax whilst enjoying a cocktail or two during the warmer months and a charcuterie board with a glass of wine during the winter months in this stunning enclave within the hotel.
The Pie Room
The Pie Room at Holborn Dining Room is a one-stop destination dedicated to one of Britain's most iconic dishes. Spearheaded by Executive Head Chef and pastry expert, Calum Franklin, it is a treasure trove of savory delicacies, and somewhere for every food-lover to swing by and take away one of the beautifully intricate pastry creations. A pie kitchen by day a private dining room by night, the Pie Room is available for private hire, every evening and weekend lunches for up to ten people.
Hours
Monday to Friday: 11:00 AM - 4:00 PM
Saturday and Sunday: Closed