San Clemente Palace Kempinski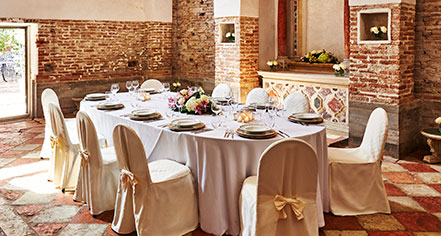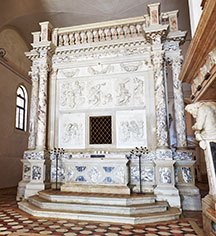 Weddings
San Clemente Palace Kempinski offers endless indoor and outdoor possibilities for unforgettable weddings. Symbolic ceremonies can take place in lush gardens and a historical 12th century church.
Natural Garden: Located in front of the main building, this very exclusive outdoor space is centrally located on the island and surrounded by large trees that can be lit in the evening, creating a very special atmosphere. Ideal for wedding receptions, ceremonies, lunches, or dinners, it is the most romantic garden area that the island can offer. Size: 1200 m2, 12916 ft2.
Lido Garden: Located behind the congress center, this very private outdoor space is a little aside from all other public spaces. It is an ideal space for wedding ceremonies, receptions, and lunches for 300 people. Size: 1500 m2, 16145 ft2.
San Clemente Garden: The garden is centrally located and a convenient spot as a welcome party, wedding ceremony, or cocktail reception. It offers a direct view into the lagoon, and if weather permits, directly to the Dolomites, and of course the skyline of Venice and St. Mark Square. Size: 900 m2, 9697 ft2.
Insieme Restaurant: Insieme Restaurant welcomes guests in a sober atmosphere whose elegance is enhanced by four authentic ancient tapestries. During summer days, it is possible to enjoy the Ancient Cloister, dated back to the 15th century and characterized by a typical Venetian well. Adults and children alike will appreciate Insieme's informal, interactive atmosphere. Family memories are created in a market-like setting where nutritious food is prepared. Size: 291 m2. Consists of three adjacent rooms (section 1: 148 m2 / section 2: 95 m2 / section 3: 48 m2).
Oriente Room: Located in the main building, the Oriente room is specially decorated in an Oriental style, with very elegant mirrors, daylight, and a courtyard view. Especially suited for lunches and dinners, this is the most prestigious private venue in the hotel. Size: 120 m2, 1291 ft2.