SO/ Berlin Das Stue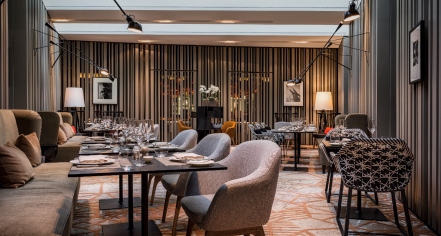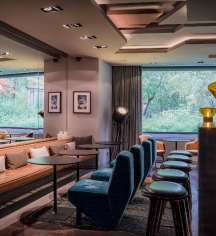 Dining
Cinco by Paco Pérez | Menus: Gran Viaje | Pequeño Viaje | À La Carte
Within the SO/ Berlin Das Stue, guests will discover the exquisite, avant-garde cuisine of Cinco by Paco Pérez. The Cinco offers delectable Mediterranean meals crafted by the world-renowned chef, Paco Pérez. Chef Pérez provides a unique twist at Cinco, serving his fare in a series of specialized tasting menus, such as the "Gran Viaje" and the "Pequneo Viaje." These wonderful offerings present a cascade of Spanish flavors that activate all five senses. Diners love Chef Pérez's distinctive approach to Mediterranean cuisine. This popularity culminated in the restaurant winning a coveted Michelin Star, the fifth of Chef Pérez's storied career.
Hours: Tuesday - Saturday, 6:30 p.m. - 10:00 p.m.
The Casual & Terrace | Menu
The Casual & Terrace offers a laid-back dining experience. Chef Paco Pérez presents his own innovative take on tapas, celebrating the love of sharing dishes with friends. His creations are simple but never simplistic, and are prepared according to the rules of honest craftsmanship: no gimmicks or unnecessary extravagance. On warmer days, the Casual's terrace provides guests a relaxing ambiance in which to experience Chef Pérez's delicious cuisine.
Breakfast: Monday - Friday, 6:30 a.m. - 11:00 a.m. (à la carte until noon) | Saturday - Sunday, 7:30 a.m. - 12:00 p.m. | Bank Holidays, 7:30 a.m.- 12:00 p.m.
Lunch: Monday - Friday, 12:00 p.m. - 3:00 p.m. | Saturday - Sunday, 12:30 p.m. - 3:00 p.m.
Dinner: Monday - Sunday, 6:00 p.m. - 11:00 p.m.
Stue Bar
The bar menu at SO/ Berlin Das Stue features timeless, classical cocktails transformed for a modern audience. Each unique beverage possesses a blend of traditional flavors with contemporary flair. SO/ Berlin Das Stue offers rare whiskeys and cognacs, as well as over 400 distinctive European wines to taste. The hotel's regular live-music nights complement the bar's decision to celebrate the city's glamour. Stue Bar also includes a special terrace that has terrific views of downtown, as well as the exciting Zoologischer Garten Berlin. Guests will love this exquisite bar, complete with its delicious menu of Mediterranean classics.