SO/ Berlin Das Stue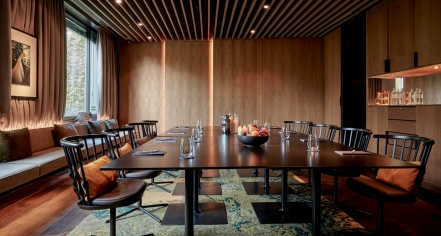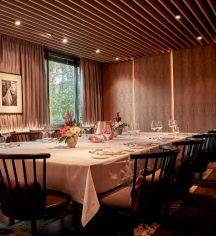 Meetings & Groups
SO/ Berlin Das Stue provides a wonderful array of quaint meeting spaces that are perfect to host any event.
Bel Etage Salon and Libraries
Guests can select the inviting Bel Etage Salon, which is terrific for cocktail receptions, private dinners, and small meetings. The Bel Etage Salon features both a large 65 sq. m. space and a magnificent 50 sq. m. terrace. Parties of up to 30 people can comfortably fit into the libraries.
Private Dining Salon
The dining salon offers an extraordinary and intimate atmosphere for meetings and receptions for up to for 30 people.
Cinco by Paco Pérez
With a love for details, the Catalan Paco Pérez creates delicious works of art for all the senses. The fine dining restaurant can be exclusively booked for up to 38 persons.
The Casual & Terrace
The Casual has an inviting interior design and delectable Mediterranean-style cuisine. It can be booked exclusively for 40 people. On the terrace, guests can enjoy the Berlin Zoo.
Stue Bar and Lobby
For intimate, private events, the Stue Bar offers newly interpreted cocktails and a cozy, relaxed atmosphere.