SO/ Berlin Das Stue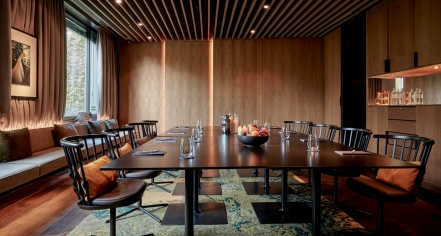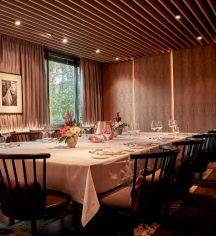 Weddings
Bel Etage Salon
Guests looking for a romantic sanctuary to get married will be pleased with the stunning, majestic charm of the historic Bel Etage Salon, located next to the historic stairwell and the library. Once the reception hall for the former Royal Danish Embassy, the salon exudes an enchanting character that makes for a fantastic space to host any wedding ceremony. The salon contains magnificent neoclassical architecture, beautiful Man-Ray photography, and historic hardware installed during the 1940s. Up to 50 people can stay in the Bel Etage Salon, with another 20 present on the salon's adjoining terrace. The salon also features a wonderful kitchenette, an ensuite bath, a walk-in closet, and complimentary WiFi and Internet access.
Private Dining Salon
The Private Dining Salon, adorned with original photographs by André Rival, is the perfect venue for exclusive events and dinners of up to 30 guests at 45 sq. m. With unique views of the ostriches, emus, and antelopes of the Berlin Zoo, this salon creates an extraordinary, yet intimate atmosphere for private lunches, dinners, and meetings.
The Casual & The Cinco by Paco Pérez
SO/ Berlin Das Stue also offers the use of its two, spectacular restaurants for wedding receptions: Cinco by Paco Pérez and The Casual by Paco Pérez. Guests can book each restaurant exclusively, or they can request that the restaurants connect to form one, large venue capable of holding 75 people. The Cinco will serve a set menu for groups ranging from 10 to 35 people, while The Casual offers a set menu for groups of 10 to 40 people.