Sofitel Legend Metropole Hanoi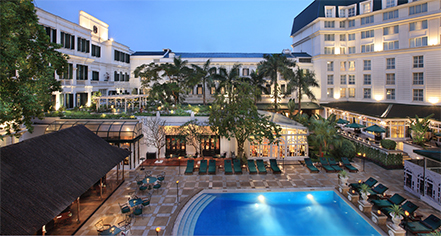 Activities & Events
When travelers aren't out and about exploring the plethora of sights available within Hanoi, Sofitel Legend Metropole Hanoi boasts a variety of options for relaxation within Vietnam's vibrant city.

Pool
Guests can unwind by the hotel's swimming pool, located in a quiet outdoor spot and heated to create a comfortable experience.

Boutique Gourmande
At the hotel's Boutique Gourmande, travelers can peruse a selection of the highest quality of snacks and beverages to delight in.

Gift Shop
Find local gifts for loved ones at the hotel's gift shop, offering Hanoi's trinkets and treasures.

Hairdressing Salon
Travelers can indulge in moments of pampering during a stop at the hotel's hair salon.

Fitness Center
Visitors can maintain their individualized fitness routines with a trip to the fitness center, boasting state-of-the art machines and equipment.