Sofitel Legend Metropole Hanoi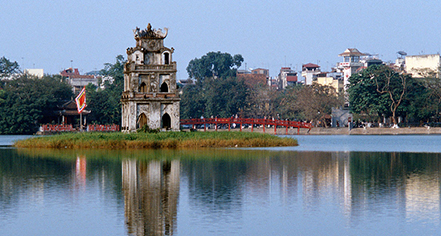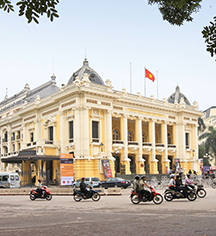 Local Attractions
Set within the magnificent French Quarter of Hanoi, Sofitel Legend Metropole Hanoi allows visitors to become quickly immersed in a world that celebrates Vietnam's notable history. Steps from the hotel's front doors, travelers can delight in visits to numerous museums, monuments, sites celebrating natural splendor, and the various districts that Hanoi offers up for exploration. The French Quarter takes its name from a disparaging period within the 19th century, when French citizens occupied the city and destroyed Hanoi's most storied structures, replacing them with lavish fixtures that celebrated French architecture. Today, the province features an array of the city's top dining outlets, shops, and attractions, however, the structures serve as a memory of Hanoi's immense struggle as a community throughout its reign.

Within the eclectic city of Hanoi, travelers can explore the French Quarter and the districts beyond during a stay at Sofitel Legend Metropole Hanoi.

Explore the destination of Hanoi:
Hoan Kiem Lake - Otherwise known as Lake of the Returned Sword, the Hoan Kiem Lake is the noted spot where a legendary story takes place. Here, Emperor Le Loi was greeted by Golden Turtle God, Kim Qui, in order to retrieve his magic sword, Heaven's Will. Today, it remains as a picturesque attraction within Hanoi.
The Opera House - Constructed between 1901 and 1911, the Opera House is modeled with the tenants of Neoclassical architecture in mind, and welcomes guests for theatre events and concerts.
The Natural Museum of Vietnam History - Guests can peruse the distinct periods of Vietnam history with detailed exhibits, set in a building that was built back in 1932.
Guided Tours - Travelers can delight in guided tours of the city, which provide them with access to the city's top destinations.
The Old Quarter - Originally a district filled with traders, today, the area boasts a variety of merchants and a market in the evenings teeming with local culinary specialties.
Dong Xuan Market - Built in 1889, Dong Xuan Market is the most expansive market in Hanoi, offering tastes of the local flavors alongside clothing and decorative products.
The Temple of Literature - This structure represents the oldest university in all of Vietnam amid a historic atmosphere.
Flag Tower - Part of the Hanoi Citadel, a UNESCO World Heritage Site, this 1812 tower was originally used as a military station.
Ba Dinh Square - Ba Dinh Square is the site where Ho Chi Minh read the Proclamation of Independence of the Democratic Republic of Vietnam in 1945.
St. Joseph's Cathedral -

Within the Hoan Kiem neighborhood, this cathedral boasts Gothic Revival architecture and was built in 1886.

Ho Chi Minh Museum - Dedicated to the influential president, this museum portrays Ho Chi Minh's influence on Vietnam and beyond.