Sofitel Legend Metropole Hanoi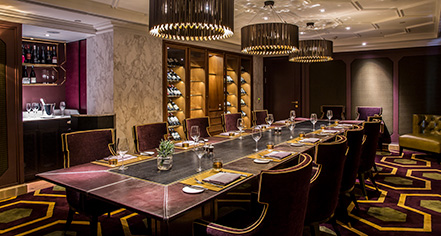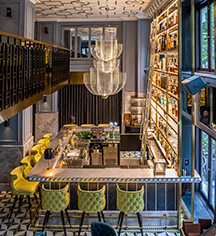 angelina
angelina, Hanoi's bespoke cocktail bar, whisky lounge, and restaurant, offers hand-crafted cocktails, an expertly curated wine list, and a world-class whisky selection. An experience brought together in a sophisticated, yet soothing décor, with a touch of Scottish highlands and hints of gold, green, and blue.
The angelina kitchen uses the finest ingredients to serve innovation comfort food with a handmade touch. The menu reflects the seasons, and the chef's creativity, offering locals and travelers imaginative comfort food with a fresh attitude. European and New World recipes inspire the dishes that diners will want to share
angelina is where the very best from Europe and the New World comes in perfect measure, where the food and drinks are as polished as the staff, and where the evening soirées are unforgettable.
Hours
Lunch: 11:30 a.m. - 2:30 p.m.
Dinner: 6:00 p.m. - 10:30 p.m.
Bar: 11:30 a.m. until late
Late-night bar menu: 10:30 p.m. - 12:30 a.m.
Brunch: Saturday and Sunday, 11:30 a.m. - 3:00 p.m.