Sofitel Legend Old Cataract Aswan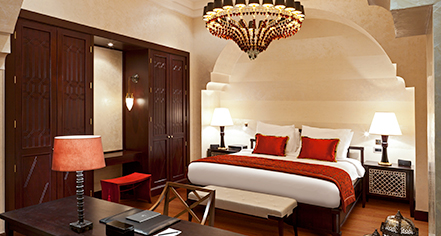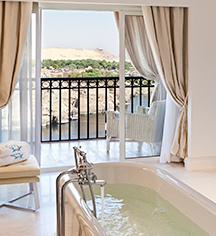 Accommodations
From its rose granite plateau rising above the sacred river, the Sofitel Legend Old Cataract Aswan offers its guests two different experiences, The Palace Wing and The Nile Wing, each with distinct guestrooms and suites.
The Palace Wing
The majestic building offers 76 sumptuous guestrooms, including 45 suites. Infused with the spirit of Aswan, both a gateway and haven since time began. Guestrooms have been restored to their initial grandeur and enhanced with the latest comforts. Decorated in gold and scarlet—the colors of the mythical Phoenix which rose from its ashes, the wing offers true refinement where guests can enjoy the peaceful breeze off the Nile, and experience a lavish, legendary stay.
The Palace Wing Accommodations:
The Nile Wing
The gracefully flowing outdoor swimming pool carries guests from past to present, connecting the Palace Wing to The Nile Wing, a spacious, contemporary extension of the Old Cataract. Bright white, refreshing tropical greens and blues complement the genuine Oriental luxury of 62 exquisite rooms, including 37 suites. Decoration includes modern interpretations of the friezes and chandeliers of the historic Palace, and all rooms benefit from private balconies overlooking the mesmerizing Nile.
Particular care has been taken with bathrooms, and some guests may have the delightful experience of taking in a panoramic view of the Nile while lazing in the bath. The Nile wing offers direct access to the majestic So Spa and a superlative wellness experience.
The Nile Wing Accommodations:
Sofitel Legend Old Cataract Aswan, a charter member of Historic Hotels Worldwide since 2014, dates back to 1899.