Sofitel Legend Old Cataract Aswan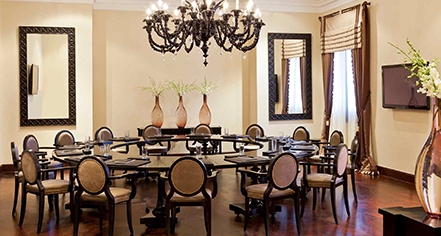 Venues & Services
Philae
Inspired after an island at the north of Aswan, and site of many famous events in ancient Egyptian history. The hotel's most intimate meeting room-fine furnishings, is perfect for board meetings and small celebratory gatherings.
Obelisk
Named for a great symbol of Egypt, grounded yet headed straight for the sky. An appropriate reference for gatherings of people with great aspirations. Ideal for presentations, the elegant room comfortably holds up to 46 people.
Nubia
In honor of Aswan's closest neighbor, a culture whose history goes back to the dawn of civilization. Warm colors characterize this 53-person meeting room conducive to a range of set-ups and any type of special event.
Nefertity
A tribute to Egypt's second mythical Queen, an icon of beauty even today, and a more frequent figure in history than her husband the Pharaoh. A room as elegant as it is practical, for seminars or personal celebrations for up to 46 people.
Cleopatra
A chamber named for the mythical Queen of the Nile, famed beauty and impervious leader. An atmosphere infused with an undeniably forceful aura. Up to 55 people for meetings or work sessions that are bound to be productive.
Capacity Chart
Room
Area
(m2)
Height
(m)
Theater
U
Board
Class
Banquet
Philae
72
3.65
33
17
18
56
24
Obelisk
47
3.65
35
16
20
35
17
Nubia
44
3.65
42
21
24
50
32
Nefertity
47
2.45
24
16
22
32
32
Cleopatra
59
2.45
60
26
20
42
32