Sofitel Legend The Grand Amsterdam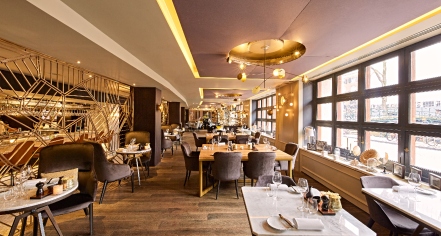 Dining
Guests may savor the culinary delights of Chef de Cuisine Raoul Meuwese at Michelin star restaurant Bridges and Mediterranean garden bistro Oriole. When the weather permits, service is extended to the sunny Garden Terrace. The hotel serves refreshing libations at the memorable The Flying Dutchman bar, and hosts its famous "Grand Afternoon Tea" service at Library 'Or' The Grand provides the perfect culinary experience for all guests.
Bridges
Michelin-star restaurant Bridges Dining focuses mainly on fish, with a surprising à la carte and Chef's menu. A unique feature of Bridges Dining is the Chef's Table. In the heart of the kitchen, you can take a look behind the scenes with a party up to 6 people and enjoy the magic of the kitchen brigade. For private events, Bridges Dining also provides a "Private Dining" experience, where you can enjoy a private dinner and the comfort of your own private space, with its own cocktail station, cigar box and a selection of specialty whiskeys. This private room is suitable for parties up to 12 people. Chef de Cuisine Raoul Meuwese describes his dishes as classic traditional French dishes, but with international influences and a modern twist. His boundless talent and continual pursuit of the ultimate level are perfectly matched with the edifying gastronomic quality and service found at Bridges.
Hours
Lunch: Tuesday - Friday, 12:00 p.m. - 3:00 p.m. | Saturday - Sunday, 1:00 p.m. - 3:00 p.m.
Dinner: Monday - Sunday, 6:30 p.m. - 10:00 p.m.
Oriole
Oriole is a casual, laid-back bistro, celebrating the most loved and recognized cuisines in the world, Mediterranean food. The seasonally rotating menu features recognizable Mediterranean dishes, that encompass simplicity, personality and flavor. Enjoy a lovely aperitivo on the terrace, a quick lunch or a festive Mediterranean dinner with a big group of friends in the relaxed and inviting interior, that takes you to the Mediterranean coast with its lush greenery.
Hours
Bistro: Monday - Sunday, 11:30 a.m. - 3:00 p.m. and 5:00 p.m. - 11:00 p.m.
The Garden Terrace
The Garden Terrace can be found in the beautiful courtyard garden of The Grand. It is one of Amsterdam's best kept secrets: an oasis of peace and tranquility situated in the heart of the city. The location lends itself perfectly for a relaxing drink, a good cup of coffee, or an intimate dinner. Sofitel has retained much of the garden's historical charm. Guests, for instance, can appreciate the sculptures of Dutch artist Jacob Kaas, who placed his artwork throughout the garden during the 1930s.