Sofitel Legend The Grand Amsterdam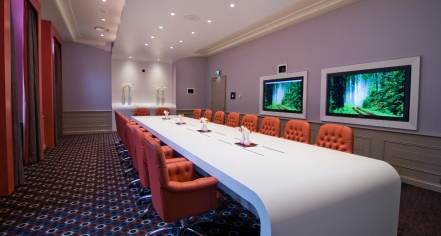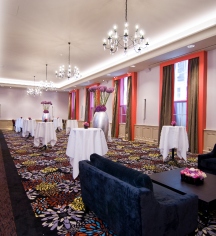 Meetings & Groups
Sofitel Legend The Grand Amsterdam offers 19 fully-furnished conference halls, which cover 1,400 square meters. Sofitel has even registered many of the venues as historical landmarks within the city of Amsterdam. Under Sofitel's revolutionary concept, Magnifique Meeting™, The Grand guarantees the best guest experiences while hosting any special event. As such, all meeting spaces come complete with catering from the award-winning Bridges restaurant, as well as the latest in audiovisual technology. Event planners will diligently assist guests plan their events, ensuring for the best possible experience.
Former City Hall
The Dutch government has identified several venues at The Grand as historical monuments. Sofitel converted the historical City Hall Council Chamber, Aldermans Chamber, and the Burgomaster into grand meeting spaces.
Princehof
The section of The Grand that used to function as the Princenhof holds 14 contemporary meeting rooms. Each room comes equipped with modern audiovisual facilities. It is the perfect place for hosting private meetings and conferences.
Event Space Chart (View the brochure for additional information)

Council Chamber I


1905
45 x 43 ft
72
200
110
175
36
36
48

Council Chamber II


1313
46 x 29 ft
45
120
90
125
24
23
32

Council Chambers
I & II


3175
71 x 45 ft
140
320
200
300
-
-
-

St Cecilia Chamber


645
26 x 25 ft
27
50
40
60
20
24
32

Aldermans Chamber


613
27 x 23 ft
24
40
40
60
20
24
24

Burgomaster Chamber


462
27 x 17 ft
18
30
30
40
20
-
-

Marriage Chamber


548
26 x 21 ft
-
45
20
40
20
-
-

Marriage Chamber
Balcony


548
26 x 21 ft
-
-
-
25
-
-
-

Admirality


1550
62 x 25 ft
-
110
100
150
-
-
-

Grand Boardroom


602
32 x 19 ft
-
-
-
-
18
-
-

Grand Duke


419
22 x 19 ft
12
30
20
30
12
12
16

Prince I


979
37x 26 ft
45
100
50
90
30
32
36

Prince II


688
26 x 26 ft
27
50
30
60
14
16
24

Prince I & II


1668
64 x 26 ft
72
150
80
150
40
46
54

Queen


914
45 x 20 ft
30
80
48
100
28
32
26

King


1011
50 x 20 ft
30
80
48
100
28
32
26

Princess


1119
57 x 20 ft
30
80
-
100
28
28
26

Lord


452
24 x 19 ft
16
-
-
-
-
-
-

Marquis


301
20 x 15 ft
10
-
-
-
-
-
-

Earl


301
20 x 15 ft
8
-
-
-
-
-
-

Count


409
21 x 19 ft
16
-
-
-
-
-
-

Baron


462
31 x 15 ft
12
-
-
-
-
-
-

Foyer I


236
21 x 11 ft
-
-
-
20
-
-
-

Foyer II


226
20 x 11 ft
-
-
-
20
-
-
-