Sofitel Paris Baltimore Tour Eiffel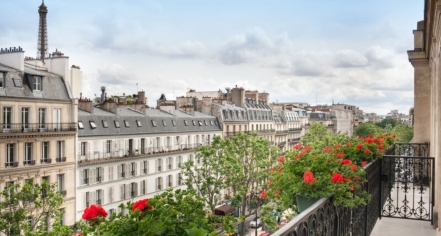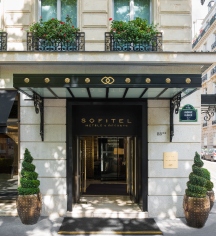 Local Attractions
Paris is a symbol of France's illustrious culture. Nestled within the heart of the city's sixteenth arrondissement district, the Sofitel Paris Baltimore Tour Eiffel is situated splendidly to allow for its guests to explore the grandeur of this magnificent community. Numerous iconic landmarks abound around the hotel, including such timeless wonders as the Eiffel Tower, the Arc de Triomphe, and the Champs Elysées. All of these fantastic destinations fall within Paris's magnificent UNESCO World Heritage Site. And if guests remain stumped about where to start, they can gain advice from TOM, the hotel's interactive information kiosk.
Champs Elysées
Originally founded in 1640, the Champs Elysées is today celebrated worldwide for its beautiful flora and luxurious boutique shops. It extends for nearly two kilometers (1.2 miles), ending in front of the imposing Arc de Triopmhe.
Arc de Triomphe
The Arc de Triomphe has served as a brilliant monument for all those who have fought for France since the early 19th century. Among its thought-provoking exhibits are the catafalque for the Unknown Soldiers and its accompanying Memorial Flame.
Le Louvre
Le Louvre is not only the world's largest art museum, it's also one of its most prestigious. It possesses a spectacular collection of priceless artwork that includes the Mona Lisa, the Venus de Milo, and Liberty Leading the People.
Eiffel Tower
France's most iconic landmark, the Eiffel Tower has defined the Parisian landscape since 1889. Thousands of visitors climb the tower's 108 stories each year to observe breathtaking views of the whole city.
Place du Trocadéro
The Place du Trocadéro sits just before the majestic Eiffel Tower. This wonderful public square commemorates the great French victory at the Battle of Trocadéro in 1823. It possesses a lush, verdant garden, as well as stunning views of the Eiffel Tower.