Sofitel Rome Villa Borghese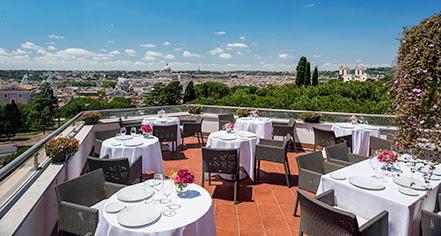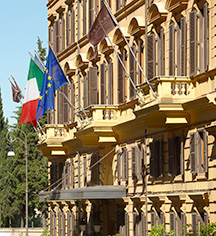 Dining
La Terasse Cuisine and Lounge
Guests can satisfy their palette by dining at the outdoor La Terrasse Cuisine and Lounge. La Terrasse offers diners wonderful views of Rome from the hotel's rooftop, while experiencing Chef Giuseppe D'Alessio's delicious menu. Chef D'Alessio has specially designed each dish to reflect traditional, Italian flavors, while adding his own, unique French twists that spice up every meal. Guests can experience a fulfilling Mediterranean breakfast or a serene, romantic dinner at La Terrasse.
La Littérature
Guests can grab a delicious original cocktail or a light snack at the bar, La Littérature. La Littérature's expert bartenders craft magnificent cocktails made with premiere spirits and serve savory glasses of wine from the best Italian vineyards.