Sofitel Rome Villa Borghese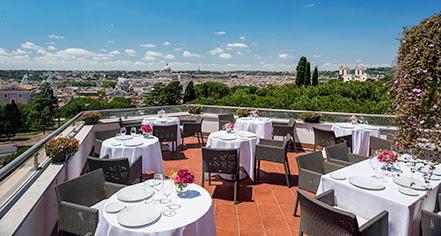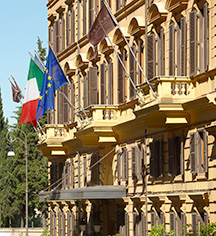 History
The luxurious Sofitel Rome Villa Borghese takes its name from the neighboring Villa Borghese Pinciana, a beautiful Renaissance-Era palace where the prominent Borghese family once resided for centuries. During the early-19th century, a fellow aristocratic family, the Boncompagni Ludovisi, constructed their own palace near the Villa Borghese Pinciana, including a small guesthouse that buttressed the edge of the estate. The Boncompagni Ludovisi accommodated friends and family at the guesthouse for the next several decades.
The guesthouse became a hotel in 1890, when it underwent a significant renovation. Operating as the Boston Hotel, the former aristocratic residence entertained some of the most well-known movie stars, including Sean Connery, Elizabeth Taylor, and Richard Burton. Ava Gardner and Walter Chiari hid away from the paparazzi at the hotel as their high-profile romance blossomed after costarring together in The Little Hut (1957). Even the renowned director Frederico Fellini frequented the hotel after he completed his critically-acclaimed film, La Dolce Vita (1960). By the mid-20th century, the hotel had become a popular vacationing spot for international celebrities.
Today, Sofitel owns this fantastic building, running it as the Sofitel Rome Villa Borghese. Sofitel has worked to preserve the rich, cinematic heritage of the building, allowing for guests who visit to still feel the potent, glamorous presence of its illustrious clientele.
Sofitel Rome Villa Borghese, a member of Historic Hotels Worldwide since 2018, dates back to 1890.