Storchen Zürich - Lifestyle Boutique Hotel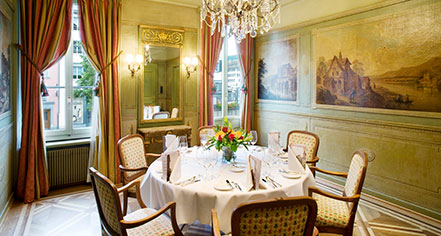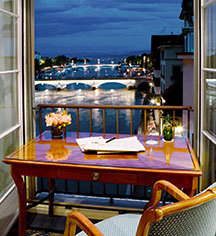 History
The Storchen on Zürich's Weinplatz has been renowned for its hospitality for over 660 years. Legend says that "zum Storchen" received its name from a rare black stork that was breeding on the Storchen's roof. It is certain that the "Hus zum Storchen" was mentioned in the tax records of the city of Zürich for the first time in 1357 and a little more than 100 years later, it was explicitly identified as a hotel.
The location of the Storchen Zürich is not a coincidence; rather, it is the result of historical and geographical logic. Here is where the Limmat river is at its narrowest, and therefore, it was the location for the first bridge built over the river. Here, too, were the crossroads of trade routes to Italy and Germany. For centuries, ships sailed from Zürich to ports around the world with market goods and illustrious travelers creating a center for commerce and providing a promising future for Storchen Zürich.
Picturesque alleys and squares surround the hotel along with superb opportunities for exploring the fascinating history of Switzerland's storied past. Zürich's origins date back to 15 B.C., when the Roman post of Turicum was founded as a customs station to oversee goods traveling to and from Italy. Despite the settlement being continuously inhabited, it wasn't until the 9th century that the first mention of the Teutonic town of Zürich appeared. By the 10th century, the town had acquired the status of a city, and went on to become the center of the Swiss Protestant Reformation in the 16th century. The motto "pray and work" was to have a profound effect on the shaping of the city, which, by the 19th century, had grown into the commercial and financial center of Switzerland.

Today, most of Zürich's historic and cultural sights lie within the compact area surrounding Storchen Zürich on either side of the River Limmat, between the Hauptbahnhof and Lake Zürich. The churches and burgher houses of the Old Town are clustered here, as are the elegant shops of Bahnhofstrasse. Also within strolling distance of the hotel are the city's most impressive churches, the Grossmünster and Fraumünster, as well as the city's oldest, St Peterskirche, which still boasts the largest clock face in Europe.

Storchen Zürich - Lifestyle Boutique Hotel, a member of Historic Hotels Worldwide since 2011, dates back to 1357.