Storchen Zürich - Lifestyle Boutique Hotel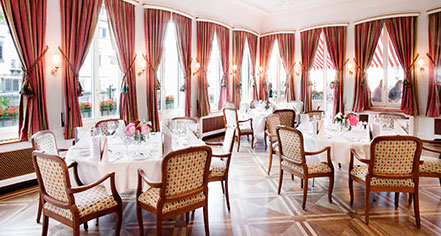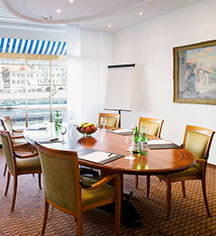 Meetings & Groups
A sophisticated setting in which to hold business and family events, Storchen Zürich - Lifestyle Boutique Hotel offers a wide range of facilities and banquet rooms that are multifunctional and well-equipped for meetings and groups of all sizes.

Werdmüller-Zimmer
In the smallest of the three banquet rooms, the exquisite Dutch wall murals from the former Werdmüller House, combined with the unique tile-stove, create a comfortable atmosphere. This cozy room is ideal for small banquets, intimate meetings, or casual cocktail parties.

Limmatsaal
The elegant Limmatsaal room showcases one of Zürich's most beautiful views. Versatile and convenient, this room can be arranged for a meeting or lecture with theater seating or round tables for business lunches, dinners, and cocktail parties.

Salon Littéraire
Salon Litteraire is the largest banquet room with its extraordinary ceiling, beautiful wooden floors, and wide windows with views of the river and the Weinplatz. The Littéraire is incomparable for gatherings whether for conference, business, or social entertaining.

Boardroom
A functional meeting room on the ground floor, the Boardroom provides the most up-to-date technical equipment. The window front along the river provides an agreeable amount of light and also a magnificent view of the Limmat and the Grossmünster.