Sundvolden Hotel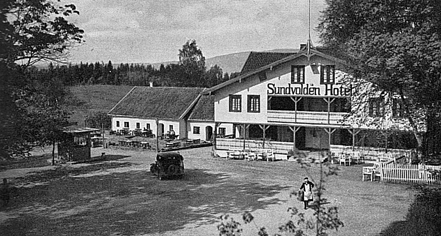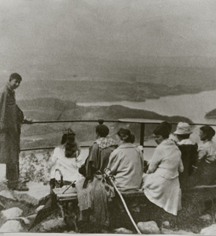 History
Dating back to 1648, Sundvolden Hotel is among the oldest hotels in Norway, rich in history and heritage that is still reflected in the service today. Originally a modest stopover inn, Sundvolden Hotel was mainly occupied by migrant workers transporting coal from Ringerike to the iron works of Bærums Verk. The inn provided the basic demands to satisfy thirst, hunger, and basic shelter with ease until 1805 when visitor traffic to Sundvolden increased as a main road across Krokskogen was built.
Sundvolden quickly became a desired vacation destination when magistrate and political figure, Thomas Bennett, began arranging tours in 1848. Following Bennett's footsteps and the praise for Sundvolden, luminaries and dignitaries traveled by carriage to enjoy the beautiful scenery and tranquility. Among the fleet of those mesmerized by Sundvolden's scenery and offerings was mistress to French author Victor Hugo, Madame Biard. Her testament to the magic of the area was made famous in a letter she wrote in 1838.
"...on the northbound road from Christiania you travel through one of the most beautiful areas in the world. Sundvolden, where we stayed, deserves to be as famous as Interlaken and Chamonix.

The village is hidden in a green valley that opens up to a wonderful scenery and great fjords with small islets. Far away you can spot the green twigs of spruce in the mountain hills against the pale blue sky.

A harmonic, pure and calm image of undescribable beauty, more vigorous than Switzerland, more grand than Scotland. I left Sundvolden at dawn, as the sun was rising behind the mountains and changing the dark green surface of the waters to glittering mirrors. I was standing a while in awe and admiration thanking God for creating such a gorgeous nature. The journey through this scenery was an adventure and it brought new adventures in every turn. "
Today, Sundvolden remains a natural awe to those lucky enough to pass through.
Sundvolden Hotel, a charter member of Historic Hotels Worldwide since 2012, dates back to 1648.