The Algonquin Resort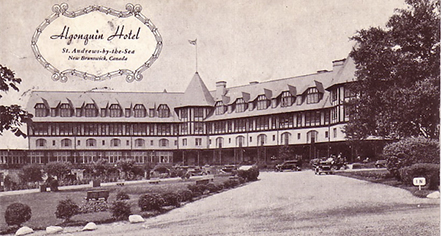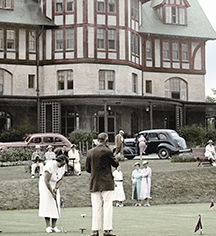 History
The Algonquin Resort opened in 1889 in St. Andrews, New Brunswick, Canada's first seaside resort town. The cost of a room at the time was between $3 and $5 per day. Five years later, The Algonquin Golf Course opened, bringing the prestigious sport to the quiet resort town. Katy's Cove, a gated beach, opened for resort guests in 1907 and quickly became one of the hottest attractions in St. Andrews.
The first of a series of renovations and additions, the Painter Wing, which added 100 rooms and 60 bathrooms, was completed in 1908. By 1912, another addition to the resort, a six-story Kitchen Wing, brought 33 new guestrooms and updated kitchens. The Casino opened in 1913, featuring a bowling alley, billiards and pool tables, and a grand ballroom.
Sadly, this constant growth halted in 1914 when a fire destroyed the majority of the hotel's original, wooden structure. Luckily, the Painter Wing, Kitchen Wing, and tower were spared. After a year of rebuilding, The Algonquin Resort reopened, boasting a new Tudor-style facade and brick red roof. The price of a room increased to between $4 and $7 per day with the introduction of a telephone system and electricity in each guestroom.
With World War II fast approaching, The Algonquin Resort operated comfortably until management decided to close its doors in 1943. The resort would reopen in 1945.
The Algonquin Resort has played host to many government officials as well as celebrities, including former Prime Minister Pierre Trudeau and his wife as well as Prince Charles and Princess Diana.
In 1991, after a $3.7 million expansion added a rooftop garden and convention center to the resort, The Algonquin Resort was named Canada's Resort of the Year by The Canadian Travel and Tourism Industry Association. Continuing to grow after this accolade, The Prince of Wales Wing is built in 1993, expanding the hotel with over 50 new rooms and suites.

In 1997, with the proper equipment to remain open in the winter, The Algonquin Resort celebrated its first holiday season. The early 2000s saw the renovation of several amenities, such as the golf course, plus the resort built a new spa.
The hotel closed its doors in 2012 to undergo an extensive, $30 million renovation. The Algonquin Resort reopened in 2014, presenting an indoor pool and waterslide, balcony suites, outdoor hot tubs, and many more new features.
The Algonquin Resort, a charter member of Historic Hotels Worldwide since 2014, dates back to 1889.