The Bellevue Hotel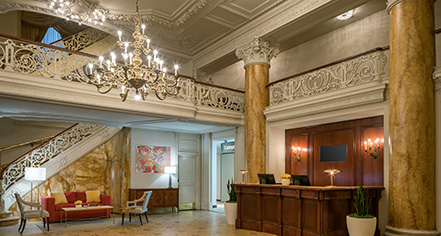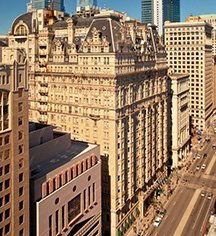 The Bellevue Hotel's Chicken à la King
Chef William "Bill" King, at The Bellevue created as dish years ago that many know and love. He was inspired to combine bits of chicken, mushrooms, truffles, sweet peppers, and cream in a mixture which is known to most now as " Chicken à la King." It is still served at the hotels' restaurant XIX.
Ingredients:
2 tablespoons butter
1/4 cup green bell pepper
1/4 cup sweet peppers
2 tablespoons yellow or orange bell pepper
2 tablespoons all-purpose flour
1 cup chicken broth
1 cup milk
1/2 teaspoon salt
1/2 teaspoon rubbed sage
1/2 cup sliced mushrooms
2 cups cooked chicken breasts, cubed
1/3 cup heavy cream
1/3 cup dry Sherry

Directions:
Melt butter in skillet on low heat. Add bell pepper strips and sauté until tender, about 8-10 minutes. Remove peppers with a slotted spoon and set aside. Add flour to butter in skillet and stir until all lumps are gone. Slowly stir in chicken broth and milk. Stir and cook until mixture is thickened to a thin gravy consistency. Stir in salt, rubbed sage, and mushrooms. Add chicken breast and cook until bubbly and thickened to a thick gravy consistency. Stir in sour cream and dry Sherry. Cook until hot and bubbly. Remove from heat. Serve hot over cooked hot noodles, rice, or mashed potatoes.