The Bentley London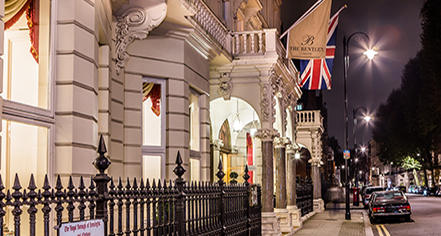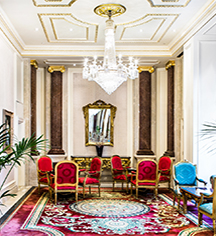 Local Attractions
Royal Albert Hall is a concert hall best known for holding the Proms concerts annually each summer since 1941. Opened in 1871 by Queen Victoria, each year it hosts more than 390 shows in the main auditorium, including classical, rock and pop concerts, ballet, opera, film screenings with live orchestra, sports, award ceremonies, school and community events, charity performances, and banquets.
Harrods is an upmarket department store located on Brompton Road in Knightsbridge. The store occupies a 5-acre (20,000 sq m) site and has 330 departments covering one million square feet (90,000 sq m) of retail space. The Harrods motto is Omnia Omnibus Ubique, which is Latin for 'All Things for All People, Everywhere'.
Kensington Palace is a royal residence set in Kensington Gardens. It has been a residence of the British Royal Family since the 17th century, and is the official London residence of the Duke and Duchess of Cambridge, Prince Harry, the Duke and Duchess of Gloucester, the Duke and Duchess of Kent, and Prince and Princess Michael of Kent.
The Natural History Museum exhibits a vast range of specimens from various segments of natural history. The museum is home to life and earth science specimens comprising some 80 million items within five main collections: botany, entomology, mineralogy, paleontology, and zoology.
The Science Museum now holds a collection of over 300,000 items, including such famous items as Stephenson's Rocket, Puffing Billy (the oldest surviving steam locomotive), the first jet engine, a reconstruction of Francis Crick and James Watson's model of DNA, some of the earliest remaining steam engines, a working example of Charles Babbage's Difference engine, the first prototype of the 10,000-year Clock of the Long Now, and documentation of the first typewriter. It also contains hundreds of interactive exhibits.
The Victoria and Albert Museum (often abbreviated as the V&A), is the world's largest museum of decorative arts and design, housing a permanent collection of over 4.5 million objects. It was founded in 1852 and named after Queen Victoria and Prince Albert. The V&A is located in the Brompton district of the Royal Borough of Kensington and Chelsea, in an area that has become known as "Albertopolis" because of its association with Prince Albert, the Albert Memorial and the major cultural institutions with which he was associated.