The Broadmoor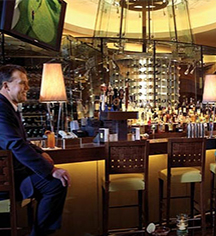 Cafés and Lounges
"Stop and smell the roses" is another way of telling someone to savor the moment. With ample cafés and lounges throughout The Broadmoor, Colorado Springs visitors can truly savor the beautiful mountain and meticulously landscaped golf course views. Ambiances range from formal to casual to accommodate every type of enjoyed leisure.
Bar del Lago
Featuring authentic dishes from the Ristorante del Lago, the bar dives into Italy and offers Italian cocktails, Italian draft beers, and an extensive selection of wines to properly complement the exquisite food.
Penrose Lounge
Wine by the glass in a romantic English library, the atmosphere is upscale and refined with spectacular mountain views to enjoy with after-dinner refreshments.
Summit Lounge
Intimate, cozy, and eclectic, The Summit is a great place to enjoy a unique beverage with someone special.Choose from a selection of 200 vineyard wines or innovative, seasonal cocktails. For those looking for something to nosh on, "small plates" are available to graze on in between meals.
The Hotel Bar
A scenic lakeside bar sure to melt away any stress and induce ultimate relaxation. A 1920 visit to the Colorado Springs hotel by the Hundred Million Dollar Hotel Club is evidenced by murals, photographs, and original letters while guests browse a menu of appetizers, microbrew beers to enjoy indoors or by the warm glow of the outdoor fireplace.
Espresso News
A cozy coffee bar and patisserie offering a delightful array of snacks, salads, freshly baked goods, sandwiches, and fresh juices. An ideal place to get lost in a good book or catch up on the day's news.
Pool Café
Casual dining meets stunning views of Cheyenne Lake and the Rocky Mountains after an invigorating swim in The Broadmoor's infinity pool is probably a sign of a good day.
Spa Café
The body is a temple and during spa treatments, pamper the body with healthful fruit smoothies, vegetable spa salads, and other light cuisine.
Oasis
Between the long stretches of game play between the East and West Golf Courses, the Oasis provides some respite with light lunch and snack items to golferes needing to refuel to keep the game going.