The Broadmoor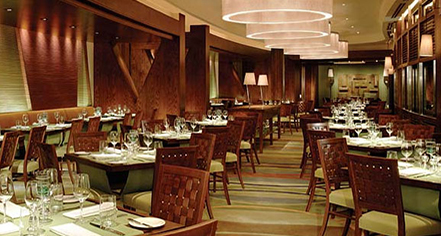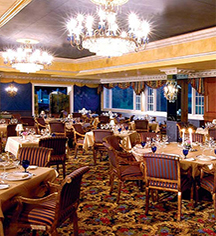 Restaurants
The Penrose Room
As Vivaldi was inspired by the changing of the seasons, so is the Forbes Five Star, AAA Five Diamond cuisine in the historic Penrose Room. Contemporary European cuisine which changes with the season, displays the careful attention to detail created by The Broadmoor's executive chef. These delectable dishes are filled with the finest seafood, meats, and local produce.
Expert sommeliers navigate through extensive wine lists to perfectly complement dinner selections for their guests. Last, but not least, The Penrose room offers a tempting selection of desserts to complete the experience of all the fabulous culinary concepts.
Summit
Traditional French cuisine and American originality combine to brings sophisticated dishes such as House Made Charcuterie, Georges Bank Haddock Meuniere, Slow Cooked Rabbit Leg, Roasted Chicken with Mashed Potatoes and Spinach, and Hanger Steak. This refined Broadmoor restaurant evolves its menu based on the seasonal selections sourced from high quality local producers. Summit includes an extensive bar with an extensive selection of microbrews, cocktails, and wines from the finest regions of the world.
La Taverne
Guests are enticed with the finest selection of hand-cut steaks, chops, prime rib, and seafood in Colorado Springs. Seating is available in the lush gardens under the 16-foot chandelier for a stylish al fresco flare.
PLAY at The Broadmoor
From hot dogs, to sushi, to kebabs, guests can literally order dishes from all over the globe. Adults can enjoy cocktails or a nostalgic adult milkshake while bowling or playing shuffleboard. PLAY is fun for the whole family. Reservations for bowling and dining are required separately.
Golden Bee
A warm, inviting room with merriment radiating from the walls, this English style watering hole is actually assembled from a collection of panels and fixtures from a 19th century English pub, which arrived at The Broadmoor in 1961. A ragtime piano player entertains guests with renditions of classic pub sing-a-longs such as Sweet Caroline, Margaritaville, and Piano Man.

Lake Terrace Dining Room
Guests can satisfy their breakfast/brunch fix from traditional European fare to interesting variations of eggs Benedict, regional specialties, and everybody's favorite griddle selections.
Golf Club Dining
Rolling golf course views and traditional club fare, such as club sandwiches, hamburgers, and meatloaf abound to please palates from avid golfers to entire families.
Mountain Clubhouse
Located on the Mountain Golf Course, this casual dining establishment is exclusively for hotel guests and golf club members. Open seasonally, patrons can enjoy classic American fare while overlooking scenic Mountain Golf Course views.

Natural Epicurean
Everyone is made up of organic matter, so it only makes sense to refuel with organic matter. The Natural Epicurean is a haven for healthy, organic cuisine, freshly pressed juices, a wide selection of vegan, vegetarian, and gluten-free options for those with food allergies or restrictions. Meat and fish are sustainably raised for happy, healthy meals in a casual atmosphere.

Ristorante Del Lago
Ristorante del Lago is open for breakfast seasonally, offering a variety of tempting items from frittatas and house made pastries, to a decidedly European breakfast buffet. For dinner, Ristorante Del Lago crafts fragrant wood fired pizzas, a selection of meats off the rotisserie, and pasta made fresh in-house. The aging room also boasts authentic salumi and formaggio imported straight from Italy. Sambonet dessert trolleys carry classics like tiramisu, cannoli, and homemade gelato to conclude your meal.