The Broadmoor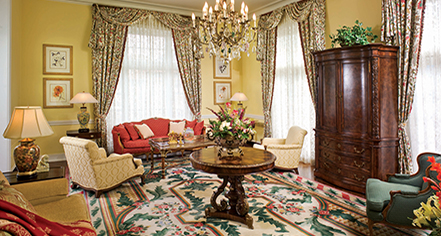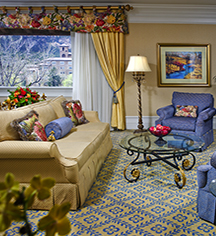 Suites
Main Executive Suites
Eastmoor Suites
With a Queen-sized pullout sofa bed in the parlor with a door separating the bedroom, this elegant, European-style suite is located in the Broadmoor Main building and is ideal for families.
Lakeside Junior Suites
With an idyllic French Country décor and breathtaking views of the Rocky Mountains and Cheyenne Lake, this elegant retreat offers guests respite from the daily grind located in the Lakeside building.
Lakeside Patio Suites
These suites include a private balcony or lake level patio and a cozy gas fireplace for wintertime gatherings. Located in the Lakeside building.
South Tower Suites
Ultra romantic rooms with "Juliet" railings extending from large picture windows, lake and mountain views, a gas fireplace, and a large soaking tub. Guests can create room ambiance through a computerized bedside system that controls the room's lights, curtains, television, and sound system. This suite is located in the Broadmoor South building complex.
West Executive Suites
West Junior Suites
After a long day, retire to this Colorado Springs suite with large picture windows to enjoy the scenic natural views and comfortable, luxurious furnishings with a King or two double beds.
Terrace Junior Suite
Luxuriously plush furniture, large windows, and private patios located on the seventh floor of the new Broadmoor West building offer guests a relaxing place to take in spectacular views such as painted Colorado Rockies sunsets.
West Tower Patio Suites
Guests can enjoy a late breakfast or a casual evening cocktail on the private balcony while taking in the scenery of The Broadmoor among a roomful of luxurious comfortable furnishings, spacious bathroom, and walk-in closet.
West Tower Suites
Located in the Broadmoor West building, this suite overlooks the golf course and offers a cozy sitting area.
Main Signature Suites
Carlton Suite
Visitors to this 1918-build Broadmoor suite will be transported back in time in this architecturally elegant three-bedroom, three-bath enclave named after a prominent businessman and friend of Spencer Penrose.
Devereaux and MacNeil Suites
Once again, named for friends and business partners of Spencer Penrose, these suites are also part of the original building and offers an open sitting room, elegant dining area, and plenty of natural light.
Edith K. Gaylord Suite
Guests can enjoy some of the best views on The Broadmoor property from this top-floor suite in the Lakeside Building. The suite is 1,800 sq ft and includes luxurious décor meant to evoke the Penroses' extensive travels, a balcony, living room, a dining room, and luxurious intimacy.
Penrose Suite
Mrs. Julie Penrose took up residence in this private apartment from 1944 - 1957. Guests can enjoy the comforts of a luxuriously appointed home.
Cheyenne and South Lake Suites
Guests can live a Gatsby-esque existence for the duration of their stay at The Broadmoor in this 1920s building located right on Cheyenne Lake. This suite offers large parlors, comfortable and spacious sitting rooms, and a dining table. A claw-foot-tub is on hand for those needing to unwind from the flurry of hosting.
West Signature Series
Parker Suite
Featuring a parlor and dining area, this grand accommodation in The Broadmoor's West building is idea for entertaining and group accommodations. This luxurious suite features a marble entryway, wood flooring, powder room, and four private bedrooms, each with a minimum of 525 sq ft.
North & South Cheyenne Mountain Suites
From the fifth floor of The Broadmoor West building complex, guests can enjoy stunning views of Colorado's Rocky Mountains from the elegance of a furnished living and dining area, private patio and two bedrooms.
Penthouse Terrace Suite
On the top floor of Broadmoor West, this two-bedroom penthouse suite is luxuriously appointed and offers jaw-dropping views of the mountains through large, airy windows. Two fireplaces and state-of-the-art features make this suite a restful, yet connected getaway.
West Tower Gaylord Suite
Known as the "Jewel of the West Tower", this luxurious 2,300 sq ft West Tower suite is designed to provide an intimate, home-y feeling with classic furnishings, two bedrooms, and enough space for family and friends.