The Hollywood Roosevelt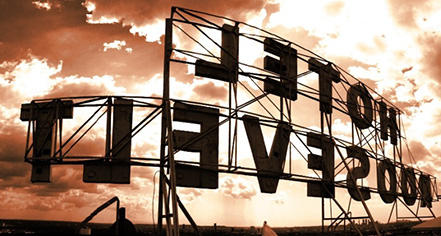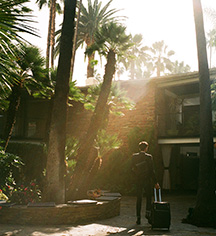 Local Attractions
With a prime location on Hollywood Boulevard, the following attractions are within walking distance of the Hollywood Roosevelt:
Hollywood Walk of Fame
The Hollywood Walk of Fame comprises more than 2,500 five-pointed terrazzo and brass stars embedded in the sidewalks along 15 blocks of Hollywood Boulevard and three blocks of Vine Street in Hollywood, California. The stars are permanent public monuments to achievement in the entertainment industry, bearing the names of a mix of actors, musicians, directors, producers, musical and theatrical groups, fictional characters, and others. The Walk of Fame is administered by the Hollywood Chamber of Commerce and maintained by the self-financing Hollywood Historic Trust. It is a popular tourist destination, with a reported 10 million visitors in 2003.
TCL Chinese Theatre
One of Hollywood's most iconic and memorable sites, the TCL Chinese Theatre (originally Grauman's Chinese Theatre) opened in 1927 and represents the excess of Hollywood's Golden Age when lavishly-designed theaters were the movie-going standard.
Dolby Theatre
The 180,000 square foot, 3,400 seat Dolby Theatre, with cutting edge technologies, is the host of the world's biggest movie premieres, events, and performances, including IRIS by Cirque du Soleil, Alicia Keys, Celine Dion, Prince, Elvis Costello, Barry Manilow, Stevie Wonder, Harry Connick, Jr., Melissa Etheridge, Dixie Chicks, Tyler Perry, American Ballet Theatre, and various touring Broadway productions. Notable television and awards events at Dolby Theatre include the American Idol finals, AFI Lifetime Achievement Awards to Tom Hanks, Meryl Streep, and George Lucas, Daytime Emmy Awards, ESPY Awards, and BET Awards.
Grauman's Egyptian Theatre
The theater opened on October 18, 1922 by Sid Grauman, with Douglas Fairbanks as "Robin Hood" on the screen. The score was by Egyptian musical director/composer Victor Schertzinger. The Egyptian was Grauman's first venture outside downtown Los Angeles and was made possible by developer C.E. Toberman. The structure reportedly cost $800,000. In many early press accounts, the theatre is referred to as Grauman's Hollywood Theatre. It was a major first run house for over four decades.
El Capitan Theatre
This grand theatre made its debut on May 3, 1926, as "Hollywood's First Home of Spoken Drama." It has been fully restored to its original elegance, boasting a Spanish Colonial exterior, and a colorful and lavish East Indian interior designed by San Francisco architect G. Albert Lansburgh.
Madame Tussauds Hollywood
Madame Tussauds Hollywood is a wax museum featuring Hollywood's biggest stars, including Al Pacino, Brad Pitt, Elvis Presley, Charlize Theron, Uma Thurman, Jennifer Lawrence, Sylvester Stallone, Will Smith, Johnny Depp, Julia Roberts, and many more.
Ripley's Believe it or Not! Hollywood
Ripley's Believe it or Not! Hollywood is an Odditorium which features 2 floors, 11 galleries, and over 300 bizarre and unusual exhibits. All artifacts collected by Robert Ripley are unique and extraordinary. Visit a Genuine Shrunken Head, Michael Jackson's Portrait made entirely from candy, Bumble Bee from "Transformers", an original Vampire Killing Kit from the 19th century, and much more.