The K Club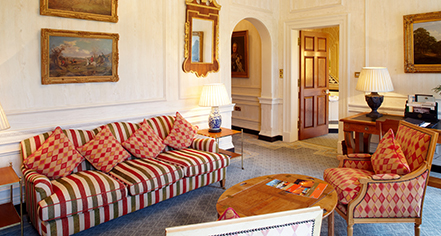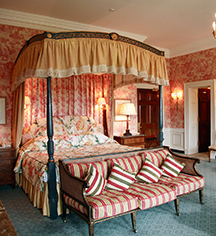 Suites
For a retreat into matchless elegance, each Suite at The K Club promises to be a tranquil oasis to delight in while not exploring the verdant countryside. With spacious interiors and a charming ambiance, each Suite affords guests a myriad of comforts during their stay.
Liffey Suites
Blending a sensibility for the past with sentiments of the present, each Liffey Suite features a blend of Irish and French design aesthetics. Positioned to mirror an authentic chateau, the Liffey Suite offers an unparalleled luxury experience.
Hotel Suites
With a picturesque view of the landscape just outside the Suite's dignified windows, each Hotel Suite affords 818 sq ft of space for its visitors to enjoy. Prizing originality at every turn, the Suites feature original artworks and photographs. A spacious living room is included, which allows guests to welcome up to 6 visitors to dine at the room's magnificent table.
Presidential Suite
The Presidential Suite is a one-of-a-kind accommodation, offering its guests 818 sq ft of spacious interiors. A large master bedroom leads into a living room, perfect for gatherings among loved ones. Exquisite views of the property are afforded with just a glance outside of the Suite's windows.
Imperial Suite
The Imperial Suite features one master bedroom, drawing room, and exclusive dining room. For hosting guests, the Suite also boasts an elegant kitchen, perfect for preparing an unmatched feast. With 818 sq ft, the Imperial Suite offers a serene getaway for its travelers.
Viceroy Suite
Offering unique spaces, The Viceroy Suite's layout is centered around the master bedroom, with a living room space and bathroom, as well, all set amid 818 sq ft of room. A romantic ambiance is crafted with an ornate four-poster bed and in-suite Jacuzzi.
Guestroom Amenities
24-Hour Valet Service
Bathrobes
Complimentary WiFi
Complimentary Water
DVD Player
Electronic Safe
Flat Screen Television
K Club Stationary
Morning and Evening Service
Multiline Telephones
Music System
Organic Voya Bath Products
Slippers
Tea and Coffee Facilities
Writing Desk