The Peabody Memphis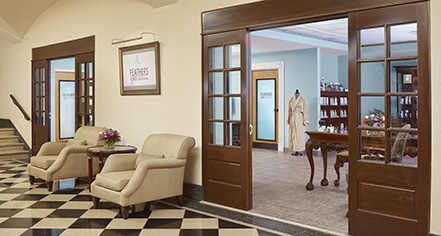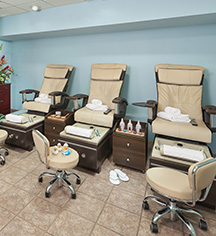 Spa
Never feel ruffled again.
A full-service resort-style spa, Feathers Spa at The Peabody offers a variety of luxurious spa and salon treatments, including massages, body wraps, facials and facial enhancements, wax treatments, manicures and pedicures, hair styling, and make-up application. A highlight among the Feathers' treatments is Ashiatsu Barefoot Massage, including a treatment for couples that is a first in Memphis. The spa also offers a full line of high-end spa and salon products from Zents, Pevonia, SpaRitual, and La Bella Donna.
Massages
From Relaxation and Hot Stone to Deep Tissue and Sports, Feathers Spa offers an array of massage treatments ranging from 30 to 90 minutes with Zents full line of spa products. The signature massage treatment is Ashiatsu Barefoot Massage, with a Couples Ashiatsu treatment that is one-of-a-kind in Memphis.
Facials
Facial Treatments include Essential Deep Cleaning, Sensitive Skin, Luminous C and Sea, Myoxy Caviar, Peel and Recapture Micro-Retinol, Lacto-Flora Acid Peel, Diamond Microdermabrasion, and a Gentleman's Facial. The signature facial treatment is the Pevonia Facial, customized to your unique skin type.
Body Wraps
Papaya-Pineapple Crème Fraiche, Lumafirm Body Firm & Glow, and Cellu-Smooth Green Coffee
Wax Treatments
Feathers offers a full menu of hair removal treatments from lip, chin, and brow to body and bikini areas.
Hair
The experienced staff at the salon within Feathers Spa can provide everything from a simple updo or cut & style, to a color, straightening, or curling treatment.
Nails
Manicures and pedicures using SpaRitual nail lacquers; shellac treatment available.
Makeup
Makeup application for events or tutorials from cosmetology experts, all with La Bella Donna pure mineral makeup. Lash treatments, including extension, fillers, and application also available.
Spa Products
Zents: Mindful, Luxury Bodycare Products
Pevonia: All Natural Skincare Solutions
SpaRitual: Nail Lacquers
La Bella Donna: Pure Mineral Makeup
Gift Certificates
Feathers Spa gift cards are the perfect gift for any occasion.
Hours
Monday - Friday, 9:00 a.m. - 8:00 p.m.
Saturday, 8:00 a.m. - 8:00 p.m.
Sunday, 9:00 a.m. - 6:00 p.m.
Appointments: 901-261-4400