The Renwick Hotel New York City, Curio Collection by Hilton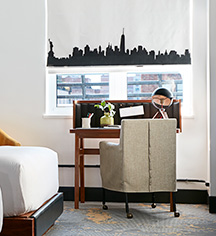 History
Housed in what was built in 1928 as a long-stay residence for sheltering artists, intellectuals, and noted authors - such as Thomas Mann and Ernest Hemingway - The Renwick Hotel takes inspiration from its former residents. Their work has inspired many of the elements found within the guestrooms and suites. The hotel takes its name from James Renwick Jr., the architect best known for his design of St. Patrick's Cathedral on Fifth Avenue in New York City.
New York-based architect and interior design firm Stonehill & Taylor reimagined the space, paying homage to past residents, and cultural and artistic innovations of the 1920s. The hotel's 173 loft-style guestrooms and suites feature custom-furnishings that make reference to items found in an artist's studio, such as easel-inspired television stands, desks reminiscent of the artist's work bench, nightstands intended to mimic flat file cabinets, and a patterned carpet that simulates paint-splattered concrete.
The historic hotel offers a fitness facility, business center, and complimentary wired and wireless Internet. One interesting hotel amenity is an origami kit that hangs from the pushpin cork boards above the desks in the guestrooms. Another is an interactive postcard which guests can mail directly to the hotel by placing it in the original mail chute next to the elevator bank. If chosen, their creation will be displayed in the hotel or even used as a future hotel postcard.
The hotel spotlights functional art sourced by 19 local New York artists who were tapped to create pieces exclusively for the hotel that complement the public spaces and guestrooms. Hand-painted blinds of the New York City skyline hang in every room. One-of-a-kind ceramic mugs with an excerpt from F. Scott Fitzgerald's The Great Gatsby sit upon each guestroom desk. The "do not disturb" signs come in the shape of paint brushes that hang on door knobs. Each room is also equipped with a different hand-painted artist stool and a quote of inspiration on the desk's blotter. Brooklyn-born artist Gregory Siff created the multi-wall mural in the hotel lobby, a signature piece that pays tribute to the New York City skyline and the building's former residents.

The Renwick Hotel New York City, a member of Historic Hotels Worldwide since 2016, dates back to 1928.