The Savoy London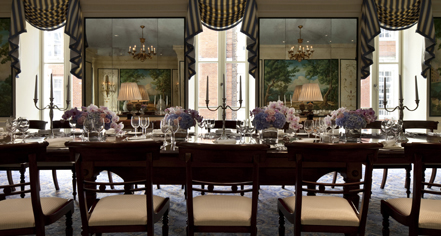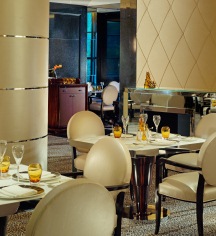 Dining
The River Restaurant is a beautiful restaurant with Art Deco style interiors and sweeping views over the River Thames and Embankment Gardens. Dating back to the hotel's early days, the restaurant is overseen by Chef De Cuisine, Ryan Murphy, who has worked with some of the world's most respected chefs. His traditional British fare and inspired French menu include dishes such as Slow Poached Monkfish and Pork Rillette Tortellini served with Thyme & Chardonnay Gelée and Roasted Poulet Noir (a black-footed chicken from Normandy) filled with Chestnuts, Celery, and Honey Poached Cranberries.
Savoy Grill is without doubt one of London's legendary restaurants recently refurbished by Designer Russell Sage who took inspiration from the restaurant's original 1920's Art Deco features. The grill has been frequented by celebrated diners such as Sir Winston Churchill, Oscar Wilde, Frank Sinatra, and HM Queen Elizabeth The Queen Mother. Chef Patron Stuart Gillies, of Gordon Ramsay Holdings, and Head Chef Andy Cook, oversee a menu that returns to the classic Escoffier-inspired grill rooms of old. Dishes include charcoal grilled Chateaubriand with pommes soufflés, king crab and prawn cocktail, lime and chocolate soufflé, and iced Peach Melba.
The American Bar has long been one of London's favorite meeting spots and is one of the most iconic cocktail bars in the world. It was home to legendary bartenders such as Ada 'Coley' Coleman and Harry Craddock, who wrote The Savoy Cocktail. Daniel Baernreuther, the new American Bar Manager, is joined by an award-winning team of bartenders including Head Bartender, Erik Lorincz (Diageo Reserve World Class Bartender of the Year 2010) and Stefano Cossio (winner of the UKBG Akvinta National Cocktail Competition). Together they have created a cocktail list that includes both classic cocktails, new creations, and tribute cocktails. Completing the vibrant ambiance and timeless elegance, the bar features a live pianist seven days a week, playing American jazz.
A new addition to The Savoy, the Beaufort Bar exudes old-fashioned glamour. In a theatrical, Art Deco interior of jet-black and burnished gold décor, the bar is the epitome of champagne, cocktails, and cabaret. The bar stands on the hotel's former cabaret stage that was graced by luminaries such as Carol Gibbons, the Savoy Orpheans, and George Gershwin. This tradition continues with nightly live entertainment and occasional appearances from cabaret legends and up-and-coming talent.