The Skirvin Hilton Oklahoma City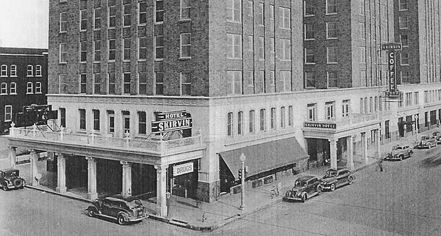 History
Named after its founder, oil tycoon and real estate developer, William Balser "Bill" Skirvin, The Skirvin Hilton Oklahoma City is Oklahoma City's oldest hotel and listed on the National Register of Historic Places.
While born in the Midwest, Bill Skirvin was known as an original Sooner and migrated West during the Oklahoma Land Rush of 1889. After acquiring and selling property in Guthrie, the first state capital of Oklahoma, Bill and a business partner moved to Texas where he developed the town of Alta Loma in Galveston County and engaged in the thriving oil business.
In 1906, Bill and his family returned to Oklahoma with a vision to expand his oil and real estate enterprise. Bill succeeded when he built the Skirvin Hotel in 1911, where he lived in a suite on the 9th floor with his family, including daughter Perle Mesta, who became the ambassador to Luxembourg under President Harry Truman. The original hotel featured a ten-story two-winged tower affording 224 guestrooms. Skirvin Hotel experienced multiple expansions, adding a third 12-story wing in 1925, and an extensive project, beginning in 1929, to level off all three wings to 14 floors, increasing the guestroom count to 525.
Quickly gaining a reputation as the city's leader in luxury accommodations, Skirvin Hotel became the social hub for the political and business elite. Inspired by the success, the Skirvin family began construction on the Skirvin Tower. Situated across the street from the hotel, Skirvin Tower was intended to serve as an apartment annex. Unfortunately, the era's financial instability hindered the Skirvin Tower's development, which was not completed until 1938. In the 1970s, Skirvin Tower was converted into an office building, and remains as such today.
After the death of Bill Skirvin in 1945, the Skirvin family sold the hotel to 43-year-old hotelier Dan James for $3 million. For the next 43 years, while its ownership was passed through several investors and businessmen, the Skirvin Hotel entertained luminaries and dignitaries, including Harry Truman, Dwight D. Eisenhower, Elvis, Frank Sinatra, Jimmy Hoffa, Roger Staubach, Mikhail Baryshnikov, and Bob Hope.
In 1988, Skirvin Hotel closed its doors and remained unoccupied for 19 years.
At the turn of the century, the economical revival of Oklahoma City prompted a steadily reawakened downtown where suppressed business began to thrive again. With the lively comeback of Oklahoma City, a comprehensive renovation project of the Skirvin Hotel began in 2005. Amounting to $50 dollars, renovations included exterior restoration, installation of historically accurate windows, and new guest elevators.
On February 26, 2007, the hotel reopened as The Skirvin Hilton affording a historic significance and luxury accommodations reminiscent of its notable beginnings.
The Skirvin Hilton Oklahoma City celebrated its 100th birthday in 2011.
The Skirvin Hilton Oklahoma City, a member of Historic Hotels Worldwide since 2014, dates back to 1911.