The Skirvin Hilton Oklahoma City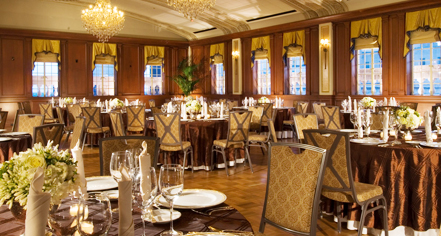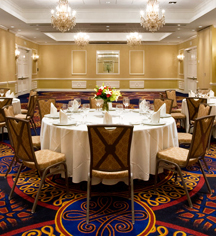 Weddings
For more than 100 years, The Skirvin Hilton Oklahoma City has been the embodiment of elegance and romance in Oklahoma City.
From the sprawling magnificence of the Grand Ballroom to the quaintness of the Continental Room and the colorful history of the Venetian Room, The Skirvin Hilton's historic grandeur and numerous venue option provide breathtaking backdrops for weddings and receptions alike.
The Skirvin Hilton's historic ambiance and modern elegance provide the perfect setting for your wedding celebration. With two spacious ballrooms and four additional event spaces, there's no party too big or small for the storied The Skirvin Hilton Oklahoma City.
Venues
The Grand Ballroom
The Skirvin Hilton's Grand Ballroom is 6,120 square feet of expansive opulence. Though most people will point to the magnificent marble staircase, it's the Grand Ballroom's versatility that makes it one of our most popular venues. Depending on the size and needs of your celebration, the Grand Ballroom can be divided and arranged to perfectly accommodate you and your guests.
The Centennial Ballroom
At 2,048 square feet, the Centennial Ballroom can be divided into three separate sound proof rooms. This classically adorned ballroom commemorates The Skirvin Hilton's 100th birthday, which was celebrated in October 2011.
The Crystal Room
The Crystal Room preserves The Skirvin Hilton's historic grandeur with originally restored chandeliers hanging over an intimate setting of 1,722 square feet.
The Venetian Room
The Venetian Room is quite possibly The Skirvin Hilton's most storied venue. Once a hotspot for live orchestras and vaudeville acts, today's 2,600 square foot Venetian Room has been restored to the splendor of its 1930's heyday.
The Continental Room
The Continental Room occupies a quaint 1,444 square feet of The Skirvin Hilton's 14th floor. It features a breathtaking view of Oklahoma City's downtown skyline.
The Founders Room
Located adjacent to the Continental and Venetian Rooms, the Founders Room is the ideal space for pre-function receptions and cocktail hours.