The Strand Hotel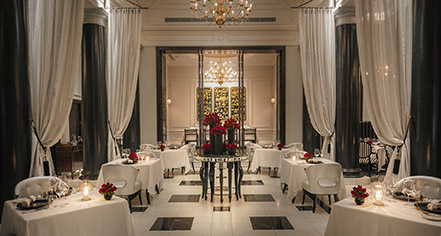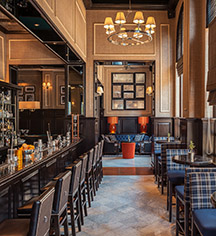 Dining
The Strand Hotel offers a variety of dining experiences, whether a sumptuous breakfast, a light lunch or even the renowned Strand High Tea, the selection will tempt taste buds. A range of dishes are offered, from traditional Myanmar food, to handmade pastries, to a fine dining experience guided by the Executive Chef's numerous travels around Myanmar, sourcing ingredients and recipes that have been used for centuries. The Strand Restaurant offers a fine dining experience, combining Mediterranean cooking with a modern twist. All-day dining is offered at The Strand Café. Guests can enjoy a drink or light snacks at the Sarkies Bar.
The Strand Café
An oasis of calm amidst the bustle of Yangon, the Strand Café offers the perfect setting to indulge in a leisurely breakfast, a light meal, or the renowned Strand High tea. The café is open throughout the day, and offers a wide selection of typical Myanmar dishes, often with a modern European flair, as well as some of the classic dishes that are so popular with the weary traveler.
Daily: 6:30 a.m. – 10:00 p.m.
The Strand Restaurant
The Strand Restaurant features a beautifully restored dining room with a seating capacity for 45 guests, as well an intimate private dining room seating an additional 10 guests. The dinner menu features both modern European and classic French cuisine, seamlessly blending quality imported ingredients with the varied organic produce found in Myanmar. The Executive Chef invites guests to join him as he continues his journey of culinary excellence set amidst the splendor of this historical dining room, offering a choice of either a tasting menu or seasonal a la carte fare.
Dinner: Thursday – Saturday, 6:30 p.m. - 10:30 p.m.
Sarkies Bar at The Strand
The century-old Strand Hotel, overlooking the Yangon River has been a famous venue since 1901, and has played host to many a thirsty traveler, explorer and celebrity alike, with the names of Noël Coward, Rudyard Kipling and Orson Welles worth a mention. In honor of the Sarkies brothers, the original owners and founders of the hotel, Sarkies Bar at The Strand offers the perfect environment to enjoy afternoon refreshments, sip on an evening sundowner, or enjoy a cocktail before dinner, mindful of the rich heritage and history synonymous with this Yangon landmark.
Daily: 10:30 a.m. - late