The Strand Hotel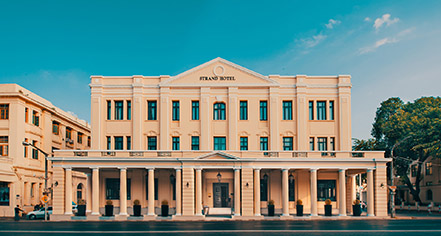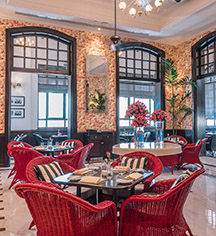 Local Attractions
Explore beyond The Strand Hotel's colonnaded charms on foot or by traditional trishaw. Just a few steps brings guests back in time among facades rich with history, vintage automobiles still in use and crowded buses which elsewhere went out of service long ago. Buddhist practitioners are ubiquitous here, with monk dressed in brown robes and nuns in pink, especially around the shimmering Shwedagon and Sule Pagodas. In the shadows of both, Yangon thrives. The city of Yangon offers local food and dining, and an array of celebrated cultural attractions.
Shwedagon Pagoda
One of Yangon's most popular pagodas, Shwedagon Pagoda with its shimmering gilded stupa is the most recognizable monument in Myanmar. The 326-foot-tall pagoda is situated on Singuttara Hill, to the west of Kandawgyi Lake.
Sule Pagoda
At the heart of the city, witness how the locals perform religious proceedings at this magnificent octagonal golden pagoda dating back 2,000 years. The Sule Pagoda has served as a focal point for modern Myanmar politics, its dome structure, topped with a golden spire, extends into the skyline, marking the cityscape.
Karaweik Palace
Located on Kandawgyi Lake is a three-story modern structure built in the shape of the mythical Karaweik bird that includes a ceremonial hall. The majestic Karaweik Palace is a restaurant that serves traditional Myanmar food at lunch time. In the evening, there is a show of Myanmar cultural performances and a choice of international food at the buffet.
The National Museum
This museum exhibits Burmese royal regalia and cultural relics, as well as the home of Aung San, father of Burmese independence. Founded in 1952, the treasures that lie within the building display ancient heritage of a vibrant country.
New Treasure Art Gallery
Opened by renowned local artist Min Wae Aung in 1989, the art gallery centers around his stark canvases of Myanmar's monks and nuns while promoting young local artists. It is one of the oldest and most well know art galleries in Myanmar, showcasing the work of more than 60 artists.
Bogyoke Aung San Market
This street market is a great place for souvenirs as well as local craft products. Walk the nearby streets for an authentic Yangon experience with street vendors and food stalls.