The Tudor Arms Hotel Cleveland - a DoubleTree by Hilton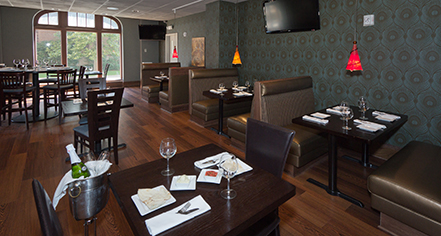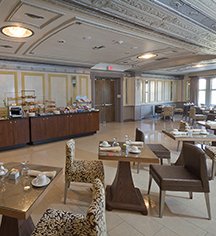 Dining
The Canopy Mediterranean Grill
Situated next to the hotel lobby, The Canopy Mediterranean Grill offers an eclectic menu featuring American, European, and Middle Eastern inspired dishes. This casual and cozy restaurant also has a fully-stocked bar, an area for private gatherings, and offers room service. The delicious cuisine is matched only by their stellar service.
Restaurant Hours
Daily: 11:30 AM - 10:00 PM
Room Service
Daily: 11:30 AM - 10:30 AM
The Tudor Breakfast Room
Open daily, The Tudor Breakfast Room serves an extensive breakfast buffet in addition to a full à la carte menu. The talented chefs also offer a variety of made-to-order omelet options. Located on the 2nd floor of the hotel, The Tudor Breakfast Room has been fully restored with all of the original moldings and woodwork. After breakfast, guests can relax by the fire in the Reading Room next door.
Restaurant Hours
Monday to Friday: 6:00 AM - 10:00 AM
Saturday and Sunday: 7:00 AM - 11:00 AM
Room Service Hours
Monday to Friday: 6:00 AM - 10:00 AM
Saturday and Sunday: 7:00 AM - 11:00 AM