The Tudor Arms Hotel Cleveland - a DoubleTree by Hilton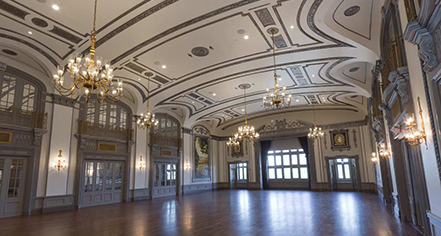 Meetings & Groups
Boasting 12,000 sq. ft. of stylish and flexible meeting and event spaces, The Tudor Arms Hotel offers the perfect setting for meetings, conferences, romantic weddings, and other group events, large or small. Paired with refined catering and full audiovisual capabilities, this historic Cleveland hotel ensures a successful, memorable event.
Highlights
12,000 sq. ft. of meeting space
6 small breakout meeting rooms
The Tudor Ballroom - 3,500 sq. ft.
In-house catering and banquet servces
Audiovisual equipment
The Knot.com Best of Weddings winner, 2012
Near Cleveland's most exciting attractions
Venues
The fully-restored 3rd floor offers conference rooms of various sizes to accommodate virtually any type of meeting. Each room can be configured to exact specifications.
The Cleopatra Conference Room features a folding wall in the center, allowing the staff to set-up a number of different configurations from classroom-style seating, theatre, or large conference.
The Tudor Ballroom, a two-story beauty, includes a ceiling of heavy oak timbers, a fireplace, and fully-restored plaster reliefs. The second floor balcony, called the Upper Tudor, overlooks the ballroom.
The Crystal Ballroom, once a place of entertainment and celebration, has now become the premier wedding and social function venue of the greater Cleveland area. The high vaulted ceilings, breathtaking murals, and spacious floors are transformed on a regular basis to meet the needs of the long list of clients and friends. Catering, full-service bars, and an awe-inspiring menu are just a few of the features offered by the wonderful Events Department.
Capacity Chart
| | | | | | | | | | | |
| --- | --- | --- | --- | --- | --- | --- | --- | --- | --- | --- |
| Crystal Ballroom | 3,772 | 46' x 82' | 22' | 240 | 456 | 330 | 250 | 96 | 84 | 96 |
| Tudor Ballroom | 3,588 | 46' x 78' | 22' | 180 | 400 | 360 | 260 | 88 | 80 | 88 |