Villa del Quar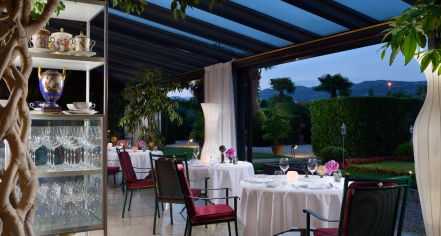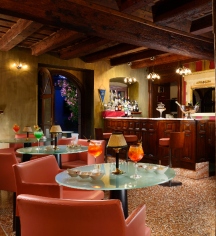 Dining
Villa del Quar has beautiful eateries that are certain to satisfy the appetite of every guest. The hotel offers everything from simple breakfasts, to cozy, romantic dinners. Led by the ambitiously talented chef, Alessio Cera, Villa del Quar serves only the finest, local Mediterranean cuisine. Chef Cera leads the culinary team at Restaurant Arquade, providing delightful dishes that reflect the special culture of northern Italy.
Restaurant Arquade
Led by Chef Cera, Restaurant Arquade serves delicious gourmet meals, which draw their inspiration from the surrounding countryside. Arquade even uses unique recipes that date back to Imperial Rome. Cera has themed the restaurant in a style of "simple luxury," offering memorable meals for breakfast, lunch, and dinner.
The Veranda
Around lunchtime the Veranda offers additional dishes crafted by Chef Cera. Guests may dine on fine Mediterranean cuisine in the backdrop of the villa's beautiful gardens.
The Gazebo & Pool Bar
Guests can also lounge in the warm sun at the Gazebo and Pool Bar while they sip on a delightful Italian cocktail.
Salgari Bar
The bar offers guests expertly crafted cocktails, wines, and other beverages, as well as exquisite light fare from a special menu designed by Chef Cera.