Villa Ganz Boutique Hotel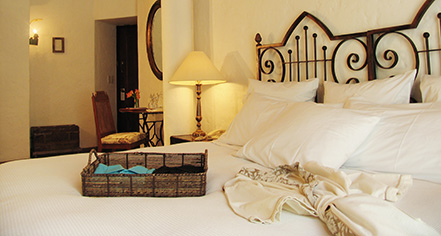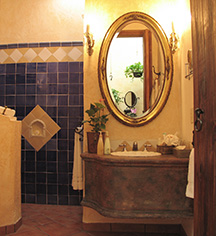 Master Suites
Fulgor Sedano
According to guests, this is one of the most romantic suites, thanks to its layout and décor. Its location on the first floor also make it one of the most private and discrete. The spacious suite has a desk, an armoire with a television set, and views of the garden. The suite features the hotel's only bidet, and has both traditional and cold-water showerheads. An ample archway opens up to the two-person bathtub, set under a dome that allows the midday sun to illuminate the room.
Fulgor Sedano was the administrator of "La Media Luna" hacienda, property of Pedro Páramo. He served as Pedro's accomplice in all his endeavors. He was charged with asking for Doloritas' hand in marriage and quieting the rumors about his boss.
Anita Rentería
Without a doubt, Anita Rentería is the most elegant suite in the hotel, featuring a comfortable recliner, bookcase, and small desk. Located on the ground floor, the ample suite is quite private due to its location in the back of the villa and has a door that leads directly to the garden. The bath sink is open to the suite and set in a frame topped by a large shell. The ground floor location is friendly to seniors and guest with limited mobility and the bath offers handrails.
Anita Rentería is Miguel Páramo's girlfriend (Pedro's son) and Padre Rentería's niece. Anita is a beautiful woman who is madly in love, no matter her uncle's fierce opposition.
Eduviges Dyada
This top floor suite is set apart by an antique tub tucked away in a corner, surrounded by lush potted plants. It has a lovely interior patio, and a stained-glass window filters in the morning light. The suite has a large built-in desk, an enclosed armoire with a television set, and a comfortable recliner with a hand-tooled tin reading lamp. The bath is spacious and separate from the tub, featuring a traditional and cold-water showerhead.
Eduviges Dyada is Dolores Preciado's friend and played host to Juan Preciado upon his arrival in Comala; she stated Dolores had told her about his arrival. Eduviges plays guide and narrator to what happens in the village.
Los Joseses
Spacious and light-filled, illuminated by a crystal chandelier, this second story suite has its own private terrace. It boasts a large window with a balcony overlooking the street, a vaulted Catalan ceiling, desk, wardrobe, chest of drawers, and two single-size beds that can be converted into a king-size bed. The ample bath features a shower with handheld showerhead.
Los Joseses are characters from the short story "El llano en llamas," from the book of the same name. Los Joseses fought in the Mexican Revolution and are sons of "the bitch," a nickname given to a general from southern Jalisco.
Tacha and Jacinta
A beautiful antique chandelier hangs from a vaulted Catalan ceiling in this lovely suite with a street view. Located on the second floor, it has a desk, easy chair, chest of drawers, and two single-size beds that can be converted into a king-size bed. The bath has a unique design with a window to the outside, and an ample shower.
Tacha and Jacinta are the narrator's sister and aunt, respectively, in the short story "Es que somos muy pobres." The story is about the desperate hardships of a family that loses everything when their cow, Serpentina, is drowned in the river. This was the family's only resource and the only opportunity Tacha had for a "dignified" life, as opposed to her "lost" older sisters.
Damiana Cisneros
This ample and flexible suite is located on the ground floor and has views of the exterior garden and the street. The Murphy-style king-size bed can fold into the wall in order to use the space as an office, business suite, or meeting room for up to 15 people. It has a desk, hammock, two large mirrors, bookcase, large trunk, and an armoire with a swiveling television stand, allowing guests to view from either the bed or desk. The spacious bath has a two-person tub and a shower.
Damiana Cisneros is Juan Preciado's guide and informant in Comala. She rescues him from Eduviges Dyada and takes him to "La Media Luna" hacienda. She is the only woman in the village that did not fall prey to Pedro Páramo's seductive ways. This gives her a different point of view and allows her to see things the way they really are and become the conscience and witness to the boss's life.