Waldorf Astoria Edinburgh - The Caledonian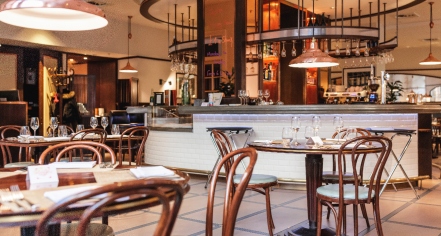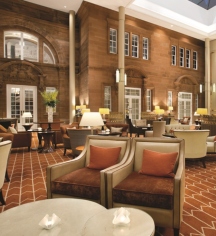 Dining
The Pompadour
The Pompadour, one of Scotland's most magnificent dining rooms, is known for stunning views of Edinburgh Castle and Princes Street, and exquisite hand-painted wall panels. First opened in 1925, The Pompadour takes its name from the celebrated Madame de Pompadour, the "favourite mistress" of King Louis XV of France, who installed her in the magnificent Palace at Versailles. The Pompadour continues its tradition of excellence under the guidance of our award-winning Head Chef, Dan Ashmore; who brings his creativity and passion to each dish and works with the best available local produce. Delight in the à la carte or a 7-course surprise tasting menu featuring the highest quality British ingredients, made with chef's creative flair. To complement the dishes, the highly experienced sommelier has selected a collection of fine wines as well as unique signature cocktails.
Galvin Brasserie de Luxe
Relax, unwind and of course eat in the casual and welcoming environment created by award-winning chef Mark Greenaway. The menu, which reflects the laidback 'grazing' concept, showcases a mix of traditional, modern and sharing plates. Always incorporating locally sourced ingredients with unique concept dishes created by Mark. Chef Mark Greenaway is an ambassador for Scotland Food and Drink. His commitment and drive place him in the very top tier of Scottish chefs. Mark's first cookbook, 'Perceptions', received the 'Best in the World' award at The Gourmand Cookbook Awards in 2017.
Peacock Alley
Located at the center of the hotel, Peacock Alley is the perfect place for people who want to see and be seen. Once the station concourse, Peacock Alley is imbued with the glamour and prestige of the building's celebrated past. Recent renovations have also included design elements inspired by the Waldorf Astoria New York, combining the elegance of the earlier Caledonian Hotel with that of the Waldorf Astoria brand. Peacock Alley is terrific for guests looking for light refreshments, such as afternoon tea or evening cocktails.
The Caley Bar
The Caley Bar has been a popular meeting space for many generations. The design of this carefully refurbished bar pays tribute to the historic Caledonian Railway, with its plush furnishings mimicking the ones that once existed within the company's train cars. The Caley Bar serves tasty Scottish whiskies, the finest wines, and soothing, hot beverages. For close to a hundred years, the bar has been filled with lively conversation and jovial laughter, making it the ideal place to go after a long day.