Aranwa Sacred Valley
Urubamba, Peru
Preferred Advance Purchase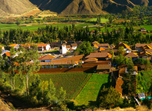 Receive a discount off our best available rate, when you book in advance.
Policies
Reservation is non-refundable and it cannot be cancelled or changed without charge. Full stay charge may apply.
Credit Card Deposit Required. Full stay including taxes will be charged at booking time.
There are no special offers currently available.