Dromoland Castle Hotel
County Clare, , Ireland
American Express Comp Golf PKG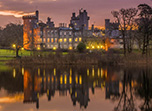 Best available rate and a complimentary round of golf with each consecutive two nights stay.
Policies
Cancel 7 days prior to arrival to avoid penalty charges or forfeiture of deposit.
Credit Card Deposit Required - full stay - tax included non refundable and non transferrable in the event of cancellation
There are no special offers currently available.