Fairmont Banff Springs
Banff, Alberta, Canada
Friends of Historic Hotels Worldwide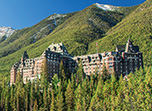 Friends of Historic Hotels Worldwide receive up to 30% off the Best Available Rate at member hotels.
POLICIES
Each hotel's deposit, change of existing reservation, and cancellation policies vary. Please contact the individual hotel to confirm their specific policies.
TERMS & CONDITIONS
Regarding Hotel Reservation: Offer is subject to availability and blackout dates may apply. Offer is subject to change and excludes applicable taxes, fees, service charges, or surcharges, unless noted otherwise. Each hotel has specific terms and conditions that vary and might include length of stay requirements, day of week restrictions, deposit requirements, and blackout dates. Please check with the hotel at the time of booking to determine if any additional conditions apply.
Regarding National Trust for Historic Preservation Membership: The National Trust for Historic Preservation/Friends of Historic Hotels of America (NHP) rate is offered at participating hotels and subject to availability. Members from the approved affiliated organizations booking the Friends of the Historic Hotels of America rate should be prepared to show a valid membership card or provide the valid membership number from your affiliated organization PLUS a photo ID. Only advance reservations made through HistoricHotels.org, HistoricHotelsWorldwide.com, or through the Historic Hotels of America call center with the booking code NHP are eligible. Discounts are not applicable for existing reservations, reservations made directly with the hotel, or reservations made via any other booking channel or OTA. Other restrictions may apply.
There are no special offers currently available.