Kinnitty Castle Hotel
Birr, , Ireland
Bed & Breakfast Special 25% Off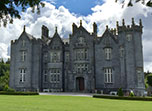 Rate includes Full Irish Breakfast.
Policies: Cancel 7 days prior to arrival to avoid penalty charge of first night's stay. Booking guaranteed with card, no deposit required. Additional policies may apply. Please consult with hotel directly if policies are not addressed in this area of the system.
There are no special offers currently available.