The Fullerton Hotel Singapore
Singapore, Singapore
Bed and Breakfast Package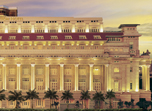 Includes: Breakfast at Town Restaurant for 1 or 2 persons, complimentary Internet connectivity, complimentary use of Handy phone, complimentary heritage tours.
Policies: Flexible 48-hour cancellation. One (1) night will be charge for late cancellations.
Credit Card Guarantee:
A valid credit card is required to secure booking
Hotel reserves the right to pre-authorize the credit card and cancel any booking with an invalid credit card provided
There are no special offers currently available.