The Jefferson Hotel
Richmond, Virginia, United States
Summer at The Jefferson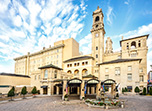 Celebrate summer with a relaxing getaway at The Jefferson, complete with luxurious accommodations, exceptional service, unparalleled amenities and valet parking ($20 value). Taxes are additional.
Policies
Change or cancel by 4pm local hotel time one day prior to arrival to avoid penalty charge of one night room and tax.
All reservations must be guaranteed with a credit card.
There are no special offers currently available.